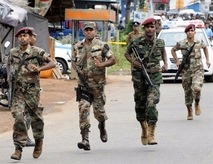 Sri Lanka's military carried out an intense aerial bombardment as ground troops were poised to overrun the Tamil Tiger rebels' political headquarters, the defence ministry said Sunday.
Air force planes carried out nine bombing sorties against positions of the Liberation Tigers of Tamil Eelam (LTTE) in the district of Kilinochchi on Saturday, the ministry said.
"The LTTE terrorists have suffered heavy damages in the string of air strikes launched by Sri Lanka air force fighter jets at the Kilinochchi LTTE defence line," the ministry said.
It added that a senior Tiger woman fighter was among those killed. There was no immediate comment from the Tiger rebels, who have vowed to defend the town of Kilinochchi, 330 kilometres (200 miles) north of Colombo.
Last week, the military said it was within "kissing distance" of Kilinochchi, but heavy rebel resistance and monsoon rains had slowed the army offensive.
On Friday, security forces took control of Terumarikandi, about eight kilometres south of Kilinochchi, according to the defence ministry.
Both sides have claimed inflicting heavy losses in the recent battles.
It is not possible to verify casualty claims by either side as independent reporters and aid workers are banned from the north.
The Sri Lankan government pulled out of a Norwegian-brokered truce in January, and its troops are now locked in fierce combat around Kilinochchi.
(For updates you can share with your friends, follow TNN on Facebook and Twitter )