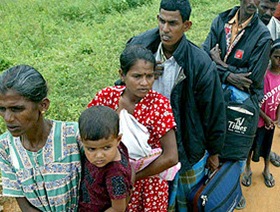 Sri Lanka's military has cornered the Tamil Tiger separatist rebels in the northeastern jungles of the Indian Ocean island, leading many to foresee an end to a 25-year war that is one of Asia's longest-running.
But foreign diplomats, including neighbouring India, have long demanded a so-called political solution to the grievances of Sri Lanka's Tamil ethnic minority, and say there will be no lasting peace without it.
WHAT DO DIPLOMATS MEAN BY A POLITICAL SOLUTION?
* It is not quite clear the exact measures foreign diplomats want to see when they talk about a political solution, but the substance of it is negotiations between the government and Tamil groups. The purpose, they say, is to help forge some consensus way to end grievances between ethnic Tamils and the Sinhalese ethnic majority, which has run the country since independence from Britain in 1948. Last week, the United States explicitly said it did not advocate discussions with the Tigers, but urged broad discussions between the government and Tamil parties to address the concerns of all Sri Lankans, including Sinhalese, Tamils and Muslims.
WHAT ARE THE GRIEVANCES BEING TALKED ABOUT?
Many Tamils say they have been sidelined and mistreated since independence by successive governments, all of them led by the Sinhalese, who are about three-fourths of Sri Lanka's 21 million people. Many also fear that they will be bullied without the LTTE to protect them, even if that protection comes at an enormous cost. But many Sinhalese say that Tamils enjoyed unfair advantages under British rule — especially in terms of government jobs and educational access — and want them back. Though it is easy for outsiders to paint the discussion in purely ethnic terms, there are elements of land, religion, language and two millennia of history involved. Tamils and the Sinhalese have occupied the island for that long, and for the most part, peacefully.
WHAT DOES SRI LANKA'S GOVERNMENT SAY ABOUT IT?
* President Mahinda Rajapaksa says the Liberation Tigers of Tamil Eelam (LTTE) must be defeated before any kind of real political settlement can be reached. He says the Tigers present themselves as the sole representative of Sri Lanka's Tamils and violently suppress any dissenting views. History bears that out. With the LTTE out of the way, Rajapaksa says he will call elections in the Northern Province the rebels had occupied and tried to turn into a separate state. That way, he says, Tamils will be part of the government and have their say. He has refused calls for a federal system. He has already held polls in the formerly rebel-held Eastern Province, but critics say those were tainted by the fact that the party that won — a group of ex-Tigers now allied with Rajapaksa — were armed at the polls.
WHAT DISCUSSIONS ARE ONGOING?
* There is an all-parties conference meeting sporadically to discuss a post-war political future, but it really hasn't taken off and critics says it is not inclusive enough. External pressure is likely to mount for the conference to produce results after the ground war is over.
(For updates you can share with your friends, follow TNN on Facebook and Twitter )