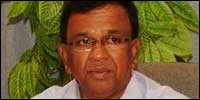 Liberation Tigers of Tamileelam (LTTE) Political Head B. Nadesan, Monday night told TamilNet that Colombo has committed a grave war crime by asking civilians and their facilities, including the ICRC, to move inside a 'safety zone,' without any shelter or infrastructure support and then by subjecting them to inhumane artillery barrage, killing hundreds and causing injuries to more than one thousand.
Categorically denying the allegations that the Tigers were using civilians as human shield, Mr. Nadesan said that they have not prevented civilians going out of the war zone. But, civilians have always been moving towards the LTTE to avoid getting caught in the hands of the genocidal military of Sri Lanka and the Tigers are pressed to fight to defend the civilians.
The UN and the International Community have failed in their duty in monitoring what exactly is taking place in Vanni and in attending to the righteous needs of the people trapped in the war, facing a genocidal army, Mr. Nadesan said.
Even the ICRC and UN workers, having no faith in the 'safety zone' declared by the Sri Lankan military, have found refuge in Puthukkudiyiruppu hospital following the artillery barrage. One of the ICRC workers was injured in the 'safety zone'.
"We come to know that the civilians who have fled the war zone and got into the hands of the military are put to untold humiliation and suffering. There is no mechanism to guarantee the human dignity of civilians who are caught in the hands of the Sri Lanakn military. The phenomenon is nothing new, but a historical legacy of ages in this island," Nadesan said.
The government officials and other civilian workers in Vanni are coerced by Colombo to confine themselves to the safety zone and to relocate their services. For instance, the Puthukkudiyiruppu hospital has to be defunct in this process.
Nadesan urged the IC and the UN agencies to put an immediate end to the war and to reach out to the affected civilians of Vanni to assess what exactly has taken place and to do the needful.
(For updates you can share with your friends, follow TNN on Facebook and Twitter )