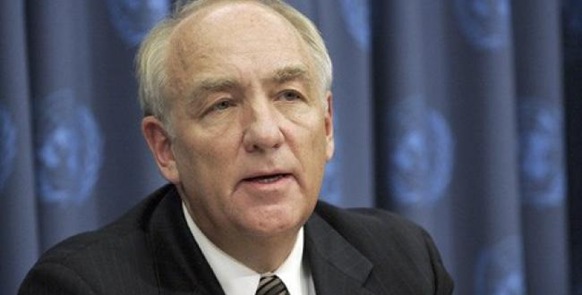 United States will "press for accountability at the national level, at the level closest to where the crimes were committed," Washington Post said quoting Stephen Rapp, Ambassador-at-Large for War Crimes Issues appointed by President Obama. Rapp told the Post that last month, to a request by Rapp to investigate war crimes by the Sri Lankan military, which allegedly killed thousands of civilians in an offensive against the country's separatist insurgency, a Sri Lanka diplomat [not named] had told Rapp, "[w]e're following your [US's] lead. We [Sri Lanka] believe in eliminating these terroristic threats and resolving these issues once and for all."
While wecoming Rapp's comments on war crimes investigations, Fabienne Hara, the New York representative of International Crisis Group, faulted the US for failing to stop serious war crimes in regions including Sri Lanka.
"United States has not lived up to its commitment to stop violence as it unfolds. Its response to war crimes in three of the most serious conflict zones of the past two years, Congo, Sri Lanka and Gaza, consists of pressing for "accountability after the crisis rather than stopping or preventing the crisis," Ms Hara is quoted as saying.
PDF: WP: War crimes envoy has personal touch
Two previous ambassadors to US State Department's war crimes division, David J Scheffer and Clint Williamson blamed the Bush administration for lack of war crimes prosecutions.
"It was a radical reversal," said David J. Scheffer, the first U.S. ambassador at large for war crimes. It [Bush administration] changed the office's mission from "one of going out there and advancing the agenda of international justice to one of trying to shield the U.S. from justice inquiries," the Post article said.
Clint Williamson who headed the war crimes office under then-Secretary of State Condoleezza Rice and during the first several months of the Obama administration, said he quietly shifted the office's focus back to its traditional business of promoting accountability for war crimes. But he said he was unable to persuade the Bush administration to get his office out of the business of handling Guantanamo Bay detainees.
The Obama administration, acting on his request, took the war crimes office out of the detainee business in May, Williamson said.
Former secretary of state Madeleine K. Albright formed the war crimes office in 1997 to lend U.S. support to U.N.-backed war crimes courts in Yugoslavia and Rwanda. But the office's mission changed during the Bush administration, when it helped defend U.S. counterrorism policy and secured foreign countries willing to receive detainees held at Guantanamo Bay, Cuba.
(For updates you can share with your friends, follow TNN on Facebook and Twitter )