Several dozen protesters carried placards in front of the Gap and Banana Republic stores on Wisconsin Avenue, Maryland, from 10:00 a.m. to 5:00 p.m. Saturday, urging ethical U.S. shoppers to boycott garments produced in Sri Lanka, while another group of Tamil activists assembled in front of Victoria's Secret Stores in midtown Manhattan in New York to protest against the Store's textile trade with Sri Lanka, sources in Washington D.C. said. Leaflets distributed said that trade in garments by US big label stores with Sri Lanka promotes a Government that has allegedly killed thousands of Tamil civilians, committing possible war-crimes in the process, according to a recent US State Department report.
PDF: Victoria Secret and Sri Lanka
Shoppers were told that the protesters have no issues with consumers shopping in the said stores, but the campaign is against buying items with 'Made in Sri Lanka" label.
GAP has its headquarters in San Francisco and sells apparels under the brands GAP, Banana Republic and Old Navy among others.
According to a 2006 report, over the years Sri Lanka has become one of the biggest suppliers to the US brand. 55m of the 70m Victoria's Secret panties made every year come from Sri Lanka. Sri Lankan factories also supply 15m bras, 10m sleepwear items and 2.5m swimsuits per year for Victoria's Secret Stores, catalogues and online sales and for sub-brands like Victoria's Secret Beauty, Pink, Intimissimi and Sexy Sport, according to the same report.
The events were part of an expanding campaign by North American Tamils to pursuade US shoppers to boycott Sri Lanka garments targeting GAP and Victoria's Secret stores, youth organizers of the event said.
"Garment exports to U.S. declined by 19.5 percent in September contributing to overall Sri Lanka's export earnings from garments and textiles to decline by 4.9 per cent to US dollars 241 million in September 2009. We would want to bring additional dent in Sri Lanka's trade with the outside world.
"We want to convey a unified message that by conducting business with Sri Lanka's apparel manufacturing industry, GAP and Victoria Secret are indirectly funding a brutal regime that is accused of possible war crimes, and which is holding more than 100,000 Tamil civilians in military supervised camps with little or no freedom of movement," spokesperson for co-ordinating the protests said.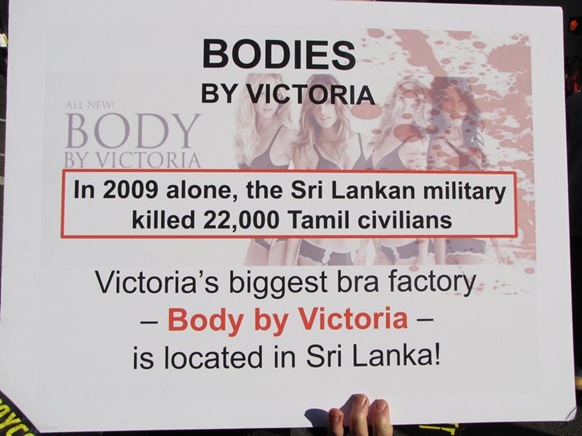 Protest in New York city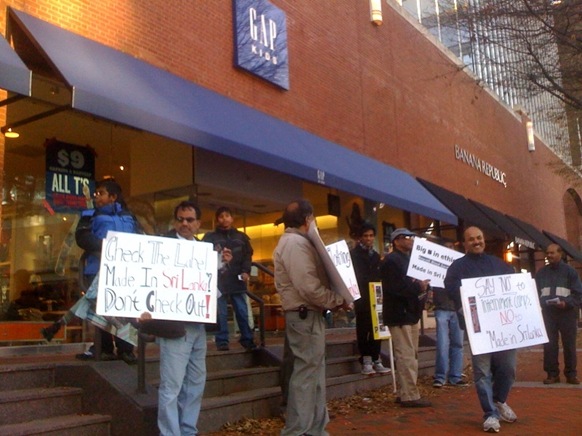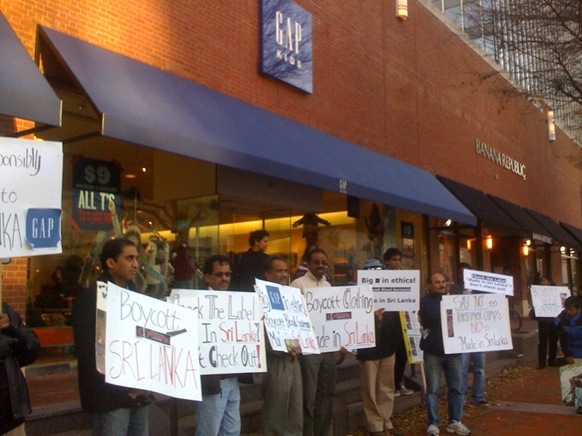 Washington boycott protest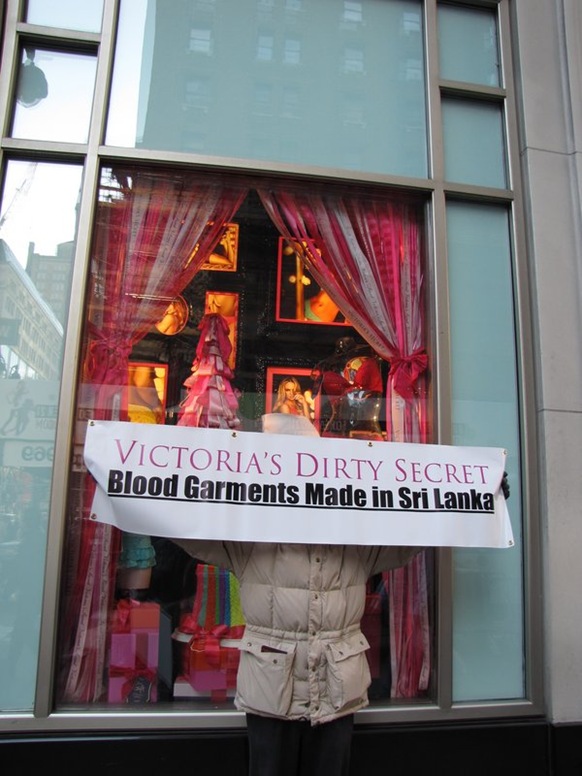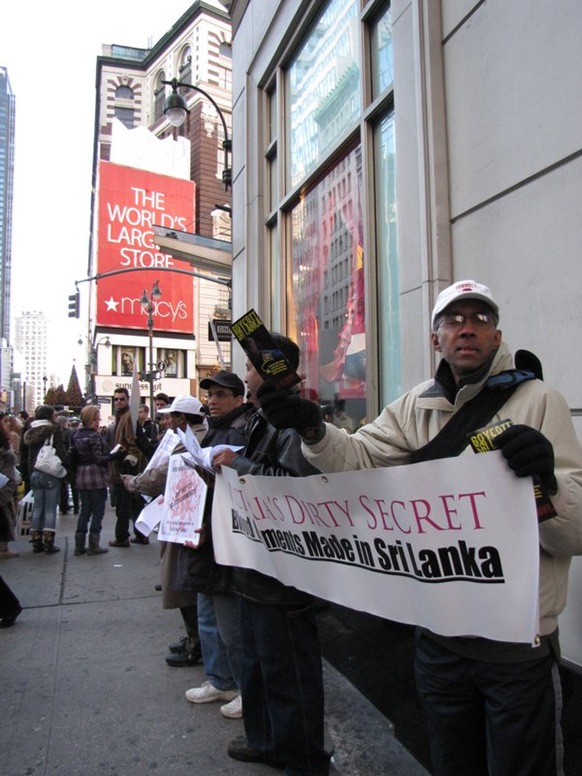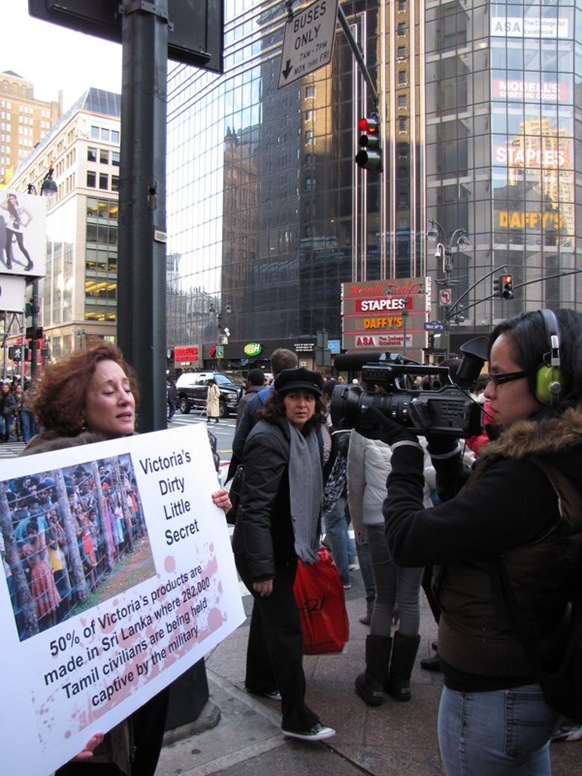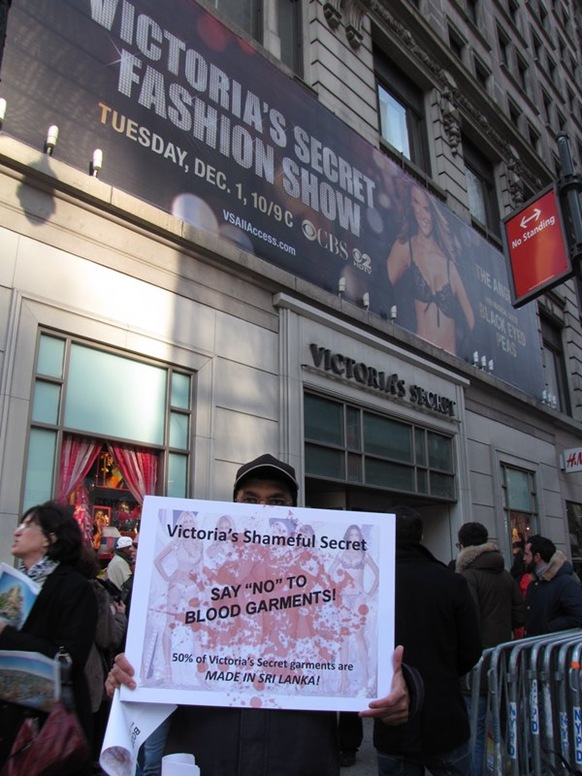 Protest in New York city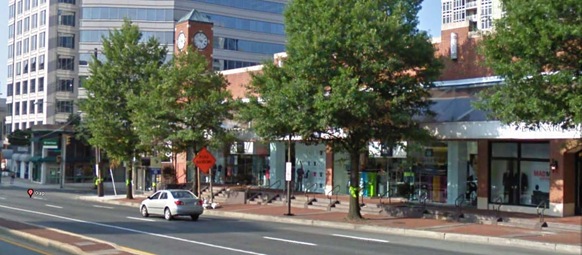 Google Street Map of store at 5430, Wisconsin Avenue, Bethesda, Maryland
(For updates you can share with your friends, follow TNN on Facebook and Twitter )