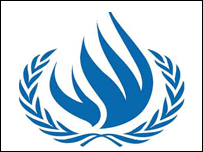 Government of Sri Lanka appealed for more time to deal with human rights issues in the country. Addressing the United Nation High Commission for Human Rights in Geneva Minister Mahinda Samarasinghe said internal processes are already in place.
"In the light of this commitment by Sri Lanka, there is no justification or urgency whatsoever in floating a resolution calling for the implementation of the LLRC's recommendations and engagement with the High Commissioner, when this has already been effectively undertaken by the Government".
Objectivity
"What we now need from the international community is objectivity in assessing Sri Lanka's efforts," said Mahinda Samarasinghe, Leader of the Sri Lanka delegation and the Special Envoy of the President on Human Rights addressing the 19th Session of the United Nations Human Rights Council (UNHRC) High Level Segment, at Geneva.
"More than anything we need to ensure that the process is allowed to advance unimpeded. We do not need unwarranted incursions that will compromise successful implementation. Such interference by way of redundant resolutions before this Council would only undermine the sentiments of this council as expressed in the decisive adoption of the Special Session resolution on Sri Lanka in 2009," Minister Samarasinghe added.
Thousands protest in Geneva
Meanwhile over thousand protesters outside the UN building in Geneva called for immediate action to investigate the alleged human rights abuses.
Some of the protesters dismissed the purpose of the proposed resolution.
"This is just a document with soft wording, which will allow the government to delay investigation while the ruling Rajapaksa family will be allowed to finish our people and establish their power in the north", Nadaraja Rajendran of the Trans national government of Tamil Eelam told the BBC Sinhala Service.
(For updates you can share with your friends, follow TNN on Facebook and Twitter )