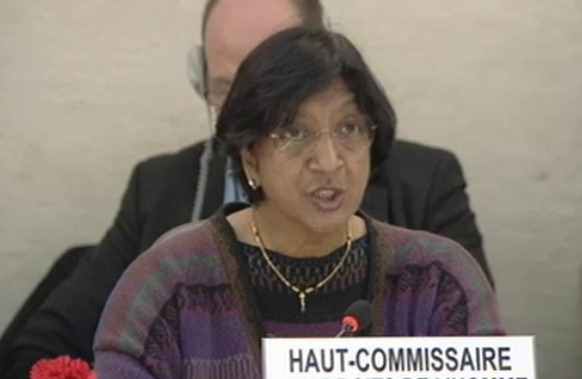 UN Human Rights Commissioner Navi Pillay says she hopes the UN Human Rights Council (UNHRC) will address reports on Sri Lanka.
Addressing the council a short while ago, Pillay welcomed the release of the Lessons Learned and Reconciliation Commission (LLRC) but added that it falls short of addressing issues mention in the UN Experts panel report.
Pillay said that the LLRC report contained several important recommendations and she hopes the government will engage with her office in implementing the recommendations.
"I welcome the publication by the Government of Sri Lanka last December of its Lessons Learned and Reconciliation Commission. While the report falls short of the comprehensive accountability process recommended by the Secretary-General's Panel of Experts, it does make important recommendations. I encourage the Government to engage with the Special Procedures and with my Office on follow up to the report. I also hope the Council will discuss these important reports.
States have an obligation to protect their citizens from threats to their security in a manner that respects human rights. My Office has assisted States develop and implement security policies, including counter-terrorism measures in accordance with international human rights law. We have seen the lifting of long-standing emergency measures in Sri Lanka, Malaysia and Fiji, although some provisions restricting fundamental rights remained or have been reintroduced. Over the past year, I have also expressed concerns about the rights of detainees held at Guantanamo Bay, and my deep disappointment at the failure to close this detention facility," she said.
(For updates you can share with your friends, follow TNN on Facebook and Twitter )