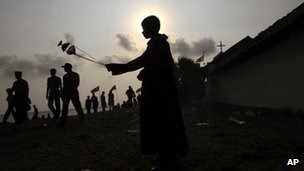 One of Sri Lanka's governing parties has called for the prosecution of a leading bishop after he condemned the government's human rights record.
The Roman Catholic Bishop of Mannar and 30 priests wrote to the UN Human Rights Council calling for an inquiry into the legacy of Sri Lanka's civil war.
But Sri Lanka's Buddhist nationalist JHU party accused the bishop of sympathising with separatist rebels.
Correspondents say his comments have also led to a rift within the church.
The bishop of the northern diocese of Mannar, Rayappu Joseph, supported by 30 priests, signed a letter sharply critical of the Sri Lankan authorities.
Apart from calling for an independent international inquiry on the legacy of the war and the need for truth and accountability, the letter condemned what it described as continuing human rights abuses.
The signatories also blamed the government for recent abductions of human rights workers and "vicious hate campaigns" against its opponents.
It has prompted the ire of the strongly Buddhist nationalist JHU or National Heritage Party, which told the BBC that the government should prosecute the bishop.
Church 'rift'?
The bishop's comments also contrast graphically with those of the top Catholic hierarchy in the country. The BBC's Charles Haviland in Colombo says the differences have laid bare what appears to be a split in the church in Sri Lanka.
A statement by Cardinal Malcolm Ranjith, who heads the church in Sri Lanka, accused Western countries of meddling in Sri Lanka's sovereignty by planning to table a resolution on Sri Lanka at the Human Rights Council, which is currently convening in Geneva.
It said this was "an insult to the intelligence" of Sri Lankans.
The diametrically opposed messages from senior Catholics here point to a rift in the church, even though the cardinal, then an archbishop, worked with the same Bishop of Mannar a decade ago to try to mediate between the government and the Tamil Tigers, our correspondent says.
The church also made a joint presentation to the government-appointed war commission, noting that a priest was among many people who unaccountably disappeared on crossing into government territory as the war ended.
But activists say Cardinal Ranjith should be more vocal on human rights problems.
(For updates you can share with your friends, follow TNN on Facebook and Twitter )