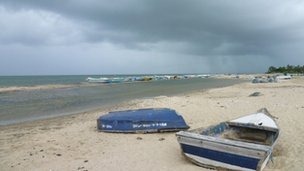 As hopes grow in Sri Lanka that viable reserves of oil are about to be discovered in its seawaters, commentators are speculating about the intentions of India, China and Russia in prospecting for it.
Recent Indian media reports suggested that India does not want countries other than itself and Sri Lanka to get involved in oil exploration in the Palk Strait between the two countries. But these have not been confirmed.
Meanwhile the Sri Lankan government says it is "confident" that traces of petroleum in its waters will have commercial value.
And it wants a variety of companies and countries to prospect for it.
'Quite confident'
Sri Lanka has never produced oil but after the end of its civil war it is reviving the quest for it.
Plans were boosted late last year when natural gas was discovered in two out of three wells sunk in its portion of the Mannar Basin – the sea area due west of the island.
The wells were sunk by Cairn Lanka, a wholly-owned subsidiary of the private company Cairn India in which Cairn UK has a minority holding.
Cairn has prospecting rights in one out of the 15 blocks being seriously considered for petroleum. Ten of these lie in the Mannar Basin and five in the Cauvery Basin further north.
It won the rights through an open bidding in 2007 and is now conducting further exploration while assessments are made of the viability of the gas deposits which also contain light oil reserves.
"We're quite confident that the Mannar Basin holds commercial reserves of petroleum," the director-general of Sri Lanka's Petroleum Resources Development Secretariat, Saliya Wickramasuriya, told the BBC.
"We now want to accelerate investment and development here based on the Cairn finds."
There is optimism because the Indian portion of the Cauvery Basin has yielded oil deposits for several decades. More than 30 wells operate there and a Canadian company has rights over 1,360 sq km.
'Diversity of investors'
A few years ago Colombo offered a block each to the Indian and Chinese governments free of charge, but they failed to take up the offer.
Things now seem to be different.
Mr Wickramasuriya says India's state-owned oil company, ONGC-Videsh, has visited Sri Lanka in recent weeks and wants to prospect in both the Mannar and Cauvery basins. It has made investment proposals which Colombo is still considering.
He denies the Indians have stipulated who else should be allowed to apply and says Sri Lanka is strongly interested in working with ONGC whose bid he describes as "logical" and, coming from a neighbouring country, attractive.
"They've a lot of experience. Their knowledge is more than ours – they have a lot of seismic knowledge. And they have the funding – if we're picking partners, they tick the boxes.
"But we'd like to see a diversity of investors."
He says several are interested – ranging from Russia's state-owned Gazprom and Vietnam's state-owned PVEP to the private French giant Total and smaller independents from Australia, the US and European countries.
He did not confirm any special interest from China but said Sri Lanka will "write to the whole world", including China, to attract bids.
Successful bidders will have to pay oil royalties and steep taxes to Sri Lanka in return for their licences.
China factor
Asantha Sirimanne, editor of Lanka Business Online, believes China is in general "very keen to get mineral rights" and may prefer to be assigned a block than to bid for one.
He says Gazprom officials have met the Sri Lankan authorities both here and in Russia within the past nine months and believes that as close international allies of Sri Lanka both China and Russia will have "lots of leverage" if they are seriously seeking exploration rights.
China is extending huge loans to Sri Lanka for post-war infrastructure development, with Chinese workers doing much of the construction on seaports, a new airport, highway and railway extension projects and power stations.
Colombo is fulsome in its praise for Beijing, which it now says is its largest development partner. Last week as its defence secretary visited Beijing, Sri Lanka said bilateral relations were at an "unprecedented" high.
Indian-financed projects in Sri Lanka have been slower to get off the ground and Mr Sirimanne believes India may be concerned at any Chinese interest in the oil rush, China being its great regional rival and Sri Lanka being right on India's doorstep.
One extra factor is that another block seen as having hydrocarbon potential has been earmarked off southern Sri Lanka, close to the massive Chinese-funded Hambantota port.
Mr Wickramasuriya admitted that in Indian eyes the Mannar Basin is essentially shared between India and Sri Lanka and said any prospecting in the area by other countries would be closely monitored to ensure that it did not extend beyond oil exploration.
The authorities say they hope the Mannar and Cauvery blocks will all be allocated by nomination or by open bidding in two phases this year and next.
(For updates you can share with your friends, follow TNN on Facebook and Twitter )