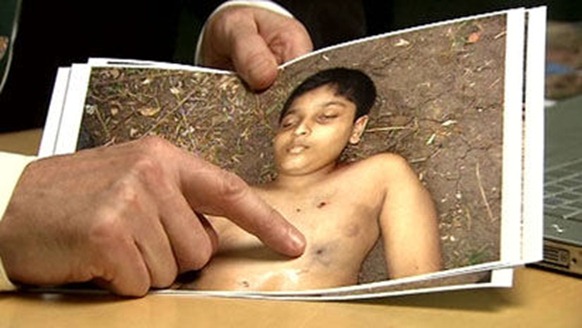 Indian media is reporting that both Houses of Parliament were 'in uproar' today and the upper house's session had to be adjourned (see footage here) after politicians from the south of the country, which has a large Tamil population, criticised the government's failure to pressure Sri Lanka to investigate war crimes as part of a reconciliation process.
They demanded to know the government's stand on the forthcoming resolution brought by the US at the UN Human Rights Council in Geneva – calling for Sri Lanka to properly investigate accusations of war crimes committed at the end of the civil war in 2009 – and requesting that this investigation be available for the UN. These demands follow extensive Indian media coverage of brand new evidence of war crimes and crimes against humanity featured in Channel 4's Sri Lanka's Killing Fields: War Crimes Unpunished.
This powerful follow-up film to last year's Sri Lanka's Killing Fields, both presented by Jon Snow, presents damning new evidence of war crimes including contemporaneous documents, eye-witness accounts, photographic stills and videos relating to how exactly events unfolded during the final days of the civil war.
The film features this new chilling video footage of five men and a child who have been executed (please be aware the clip contains distressing footage).
The boy has been identified as Balachandran Prabhakaran, the 12-year-old son of the supreme leader of the Tamil Tigers Velupillai Prabhakaran. The film's director, Callum Macrae, has been supplied with a sworn affidavit from a senior Sri Lankan officer in which he says that the boy was apparently interrogated by Sri Lankan government forces about his father's whereabouts and then killed. Evidence that the shooting of the boy, who suffered multiple gunshot wounds, was an execution rather than a combat injury are apparent in the examination of high resolution photographs of his dead body by respected forensic pathologist Derrick Pounder. In the film Pounder describes the killing as homicide. "This is a murder – there's no doubt about it." This new evidence provides further support for the contention that these executions were part of a systematic policy which means that responsibility lies at the highest command levels of the Sri Lankan Government.
(For updates you can share with your friends, follow TNN on Facebook and Twitter )