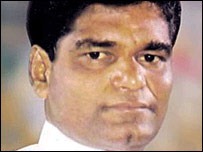 The people in the former war-torn areas will not be able to enjoy the hard won freedom after decades of war if the government does not settle them back in their ancestral lands, says a provincial minister from the ruling party in Sri Lanka.
Wimalaweera Dissanayake, the land minister of the eastern province, made these remarks at a meeting people in Eravur to resolve land-related issues.
Residents of the area, mainly war displaced Muslims, informed the minister that they are prevented from re-cultivating their land by officials of the the central government.
Displaced people quoted government officials saying thousands of acres of paddy land has been set aside for grazing.
13 amendment
The minister said that the provincial government has not been informed of such action by the central government.
Apart from issues faced by those who were forced to flee the war, the minister said there are many other frictions created due to ethnic differences.
Therefore, said Minister Wimalaweera, he could not agree with any action that once again forces these people to leave their ancestral lands.
"Although there should be areas reserved as grazing land for the cattle, the land issue of war displaced needs to be addressed as a priority," he said.
He added that the exclusion of people from their lands highlights the importance of the handing over of land powers to provincial governments.
(For updates you can share with your friends, follow TNN on Facebook and Twitter )