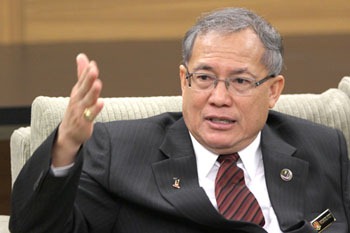 Malaysia has defended the decision to abstain from voting in a United Nations resolution urging Sri Lanka to "credibly investigate" allegations of war crimes during the final months of its civil war there.
Amongst the reasons, according to Foreign Affairs Deputy Minister Richard Riot, was that Sri Lanka's problems were too complex to solve in a short time.
He said that the country, which had fought a civil war between 1972 to 2009, tabled a report investigating the war's atrocities in its own parliament on Dec 16, 2011.
"Taking into account 30 years of conflict and complexities of domestic issues… unfair for (the UN) resolution to impose an obligation on the government of Sri Lanka to report in just three months," he said, during the wind-up on the Yang Di-Pertuan Agong's Speech today.
Riot also said that Malaysia had acknowledged Sri Lanka's national reconciliation process as a domestic issue.
He added that Sri Lanka had taken the "necessary steps" to share information with the international community over reconciliation and development efforts.
Riot was referring to the US-led resolution which was adopted by the UN Human Rights Council on March 22. The resolution was passed with 24 votes in favour, 15 against and eight abstentions.
(The countries that abstained from voting were Angola, Botswana, Burkina Faso, Djibouti, Jordan, Kyrgyzstan, Malaysia and Senegal.)
In the last few months of the war, more than 40,000 people were alleged to have been killed by security forces and Sri Lankan rebel group, the Liberation Tigers of Tamil Elam (LTTE).
To this, the Malaysian government acknowledged that genocide had indeed taken place in the conflict-ridden country, citing a paper known as the "Darusman Report".
"…the report has said there were human rights violations and crimes against humanity…(by the) Sri Lankan government and the LTTE," said Riot.
He said that Sri Lanka's Lessons Learnt and Reconciliation Commission (LLRC) confirmed the same thing, adding that the country's security forces had acted in self-defence.
He also claimed that Malaysia's abstention was not a double standard and that the country did not interfere in other countries' domestic affairs.
Regarding the Israel-Palestinian issue, Riot said that Malaysia was looking for a peaceful solution between the two states.
He also reassured MPs present that Malaysia would give Sri Lanka a chance to prove itself.
"(But) if during the period of reconciliation, that they don't achieve peace, then the international community will meet and vote whether they will interfere or not," he told the House.
Pakatan Rakyat MPs however were not satisfied with Riot's response.
Criticising the LLRC as "weak", Klang MP (DAP) Charles Santiago said that the LLRC report supported the Sri Lankan government.
Ipoh Barat MP (DAP) M Kulasegaran said that it was "shameful" for Malaysia to be one of the eight abstaining countries.
"I compare, these are irrelevant countries. They are substandard (in) human rights values and so forth. Can we compare to them?"
"No! Malaysia is entirely different. Our standard is very high, our per capita income is very high. The expectation of the world is very high and we are a member of the Human Rights Council!" he said.
He also asked on the allegation that Malaysia's abstention was due to billion-ringgit business deals with Sri Lanka.
Kulasegaran claimed that there were "many big business people" in league with the Barisan Nasional government who were investing in Sri Lanka.
In response, Riot said that matters of foreign trade did not come under his ministry and that it came under the Ministry of International trade and Industry. (Free Malaysia Today)
(For updates you can share with your friends, follow TNN on Facebook and Twitter )