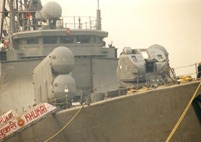 Sri Lanka has called for joint patrolling between the navies of Sri Lanka and India to prevent clashes between fishermen of both countries, a Sri Lankan minister said on Thursday.
Douglas Devananda, a minority Tamil Minister in the Sri Lankan government, told Xinhua that he has already discussed the issue with Sri Lankan fishermen on a disputed island in the north of the country.
Fishermen from India often stray into Sri Lankan waters to catch fish near the Kachchaitivu Island resulting in clashes between fishermen from both countries.
Devananda said that that the daily livelihood of Sri Lankan fishermen have been seriously affected with the Indians encroaching in Sri Lankan waters.
"Sometimes these Indians damage the fishing nets of Sri Lankan fishermen. This has become a serious issue. I have suggested that the Sri Lankan and Indian navy conduct joint patrolling near the maritime boundary of both countries to prevent these kind of incidents from taking place," Devananda said.
Politicians in the southern Indian Tamil Nadu state have been demanding the Indian government to take back the Kachchaitivu Island which was ceded to Sri Lankan several years ago.
Indian fishermen have been accusing the Sri Lankan fishermen and Sri Lankan navy of attacking them when they cross the boundary line to catch fish near Kachchaitivu.
Devananda said that the only way one can find out who is attacking who is by conducting joint patrolling at the international maritime boundary line.
The Sri Lankan Minister also called on Tamil Nadu politicians to look at the fishermen issue and try to solve that instead of raising allegations of human rights violations against the Sri Lankan government.
"They are looking at past issues. They should look at current issues and the fishermen issue is current and that needs to be addressed first," Devananda said.
Tamil Nadu political parties, last week, claimed they had convinced the Indian government to vote against Sri Lanka at the UN Human Rights Council in Geneva.
(For updates you can share with your friends, follow TNN on Facebook and Twitter )