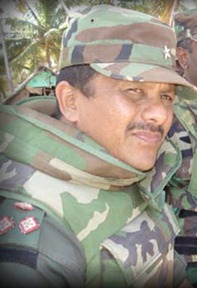 A court case has been filed against the diplomatic immunity given to Major General Prasanna Silva, the defence attaché to the Sri Lankan High Commission in London.
The Global Tamil Forum (GTF) filed the case today demanding that the British Foreign Office remove Silva's diplomatic immunity so he can face legal action in London.
The diplomatic immunity can only be removed by the sending state, in this case Sri Lanka. But the British Foreign Office can request for a waiver of the diplomatic immunity, lawyers appearing on behalf of GTF have said.
In the event the Sri Lankan government refuses to remove his diplomatic immunity then the British Foreign Office can deport him based on the court ruling.
"Every alleged war criminal of Sri Lanka must know that the Tamils will not rest until justice is served for the terrible crimes they are alleged to have committed. This along with other legal proceedings must send a message to the regime that they are not welcome in the international scene. There remain other alleged war criminals in Australia and in New York where we will start proceedings soon," Suren Surendiran, Spokesperson for the Global Tamil Forum said.
(For updates you can share with your friends, follow TNN on Facebook and Twitter )