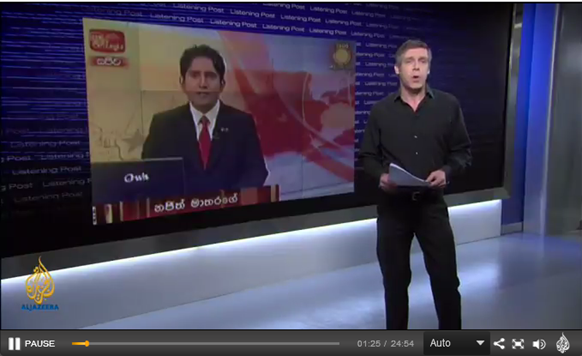 On March 22, the UN Human Rights Commission voted to investigate alleged war crimes committed during the Sri Lankan civil war. The war itself ended back in 2009, but the battle against independent journalists is far from over. In the past two months, state-run media have been targetting journalists critical of the government, labelling them as 'traitors'. Mervyn Silva, the public relations minister to Mahinda Rajapaksa, the Sri Lankan president, took to the airwaves announcing that he would 'break the limbs' of any journalist who attempted to challenge the government's narrative on the war.
Opposition voices on this island have been continuously threatened, silenced and forced into exile, so journalists and press freedom groups alike are not taking the threat lightly. In this week's News Divide, we look at the media battle that is intensifying in an already fragile media environment.
In News Bytes this week: Brazil's appalling track record in 2012 as the second worst place in the world to be a journalist gets even worse; The under-reporting on the death of an unarmed black student in Florida highlights the need for racially-diverse newsrooms in the US; A Turkish court temporarily shuts down a pro-Kurdish newspaper Ozgur Gundem accusing it of publishing 'terrorist propaganda'; and US Republican presidential hopeful Rick Santorum picks a fight, not with his opposite number, but with a New York Times reporter.
(For updates you can share with your friends, follow TNN on Facebook and Twitter )