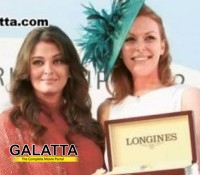 Aishwarya Rai Bachchan led the stakes at the Dubai World Cup which she attended over the weekend where she presented the award for the 'Most Elegant Dressed Lady' at the event. Aishwarya was present as the Brand Ambassador of watch company Longines which she has been part of for the last 13 years. At the event she was the perfect picture of style and elegance keeping in with the Longines tag line 'Elegance is an attitude'.
Aishwarya presented the award for 'Most Elegant Dressed Lady' along with Juan Carlos Capelli, Vice President and Head of International Marketing at Longines. The actress said, "I am delighted to be here and see such finely dressed women in their hats and beautiful dresses".
During the day, Aishwarya visited a newly opened Longines store in the hotel she was staying and later met various media houses for interviews from different countries including Indonesia, Hong Kong, Singapore, India etc.
Draped in bright red traditional outfit by Indian designer Sabyasachi, Aishwarya greeted the world in a very 'Miss World' style – with NAMASTE and had the crowds clapping in excitement. Her suit studded with shimmering gold, complimented the golden sandals on her feet. The event was attended by over 50,000 people.
(For updates you can share with your friends, follow TNN on Facebook and Twitter )