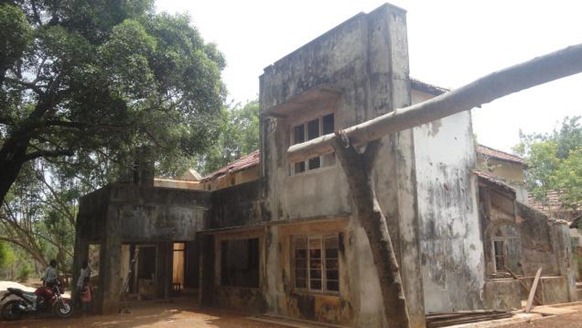 Sri Lankan Tamil leader prepares for permanent return from Chennai
Ever since he arrived in Chennai in August 1983 after violence broke out against Tamils in Sri Lanka, S.C. Chandrahasan and his family lived with the hope that in three months they would be back in their motherland.
History proved otherwise and his status was reduced to what he called "a person with no permanent address". His three children received their education in Chennai and got married. Finally, when he landed in his hometown Tellipallai in the Jaffna peninsula in February 2011, 27 years had elapsed.
Son of S.J.V. Chelvanayagam, leader of the Federal Party in Sri Lanka and known to his followers as Thanthai Selva (Father Selva), 69-year-old Chandrahasan is now preparing for permanent return and has started renovating his ancestral house.
The house at Chelvanayagapuram was a nerve centre of political activity between 1947 and 1977, when his father was alive.
"When I first went there, the place was a high security zone. For more than 20 years, no one was allowed inside," he said. The thick vegetation that had grown around it was difficult to penetrate. After May 2011 the area was cleared for human habitation.
"The house itself had been shelled. There were no doors. The teak windows and doors had been pilfered. Half the roof is not there. I have restored part of the house. I am delaying the process of my return because I have to accompany my people with whom I have been working for the last 28 years," said Mr. Chandrahasan, founder of the Organisation for Eelam Refugees Rehabilitation (OFERR).
Mr. Chandrahasan, a lawyer by profession, came to India after there were three attempts on his life. His wife Nirmala Chandrahasan was the head of the Law Faculty in Colombo University.
"Initially, I found it very difficult, though the governments of India and Tamil Nadu were giving a lot of facilities. It was not a comfortable life when you are not able to earn your own income and take care of your children. We managed with the support of families and friends," he said, recalling his initial early days in Chennai.
"Colombo was economically quite progressive and a lot of facilities were available. You can buy anything you want. And in Chennai there were a lot of restrictions as the economy had not yet opened up. Many things were not available and we had to adjust to what average Indian people were content to live on. Now, the situation is just the opposite," he said.
Mr. Chandrahasan is now visiting Sri Lanka once or twice a month and has already ventured into organic farming on four acres at Tellipallai.
Asked about his political plans, he said he had the responsibility of walking along with his people and to that extent, he could not do something till he completed the process.
(For updates you can share with your friends, follow TNN on Facebook and Twitter )