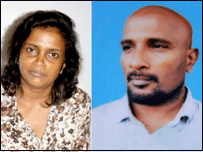 Abductors were trained security personnel that operate unofficially and secretly under the patronage of the political authority says the freed political leader Premakumara Gunaratnam.
"The places they kept me were not military camps or police stations, but the way they operated strongly suggested that abductors were a part of government security services", leader of the Frontline Socialist Party (FSP) Premakumara Gunaratnam told BBC Sandeshaya.
Deported to Australia
"I was unable to recognise any of my captors, but the way they behave and act strongly suggested that they belong to security forces and operate with the blessings of a political authority", he added.
He and senior leader of the FSP Dimuthu Artigalle were abducted on the 6th April from Colombo.
Police said that Gunaratnam, who is an Australian national, had walked into the police anti-crime unit at Dematagoda- Colombo on the 10th April and had been deported to Australia.
Speaking to BBC Sandeshaya from Sydney, Australia, Gunaratnam said that he was tortured by his captors immediately after he was kidnapped but later changed their tactics.
New political party
"I see this abduction as a clear death threat to me and it violates fundamental rights. I thought they would kill me," he added.
According to Gunaratnam captors changed the way they handled him and was extensively questioned about his politics, political party, its agenda and associates.
Gunaratnam who is also known with few other identities claimed that he was kept in two different locations.
"The captors did not extensively question me about my forged identity but indicated to me that they knew all about it" he said.
(For updates you can share with your friends, follow TNN on Facebook and Twitter )