Aid agency Medecins Sans Frontieres (MSF) has denied abandoning traumatised war survivors in Sri Lanka by closing down a mental health project in the north.
Despite "massive needs", the decision was made because MSF no longer deems it an emergency, the medical charity said.
MSF announced on April 5 that it was shutting down a programme counselling survivors of the Indian Ocean island's almost three-decade-long conflict, most of whom witnessed the deaths of loved ones.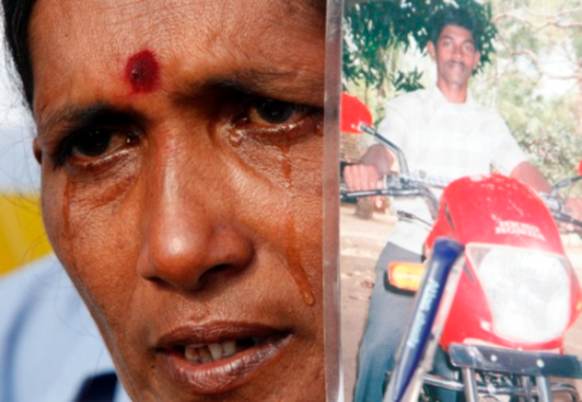 A Sri Lankan Tamil woman holds up a photograph of her missing son during a protest against the Sri Lankan government in Colombo, June 30, 2011. REUTERS/Dinuka Liyanawatte
"There are still clearly massive mental health needs, but we felt that this was not something that MSF could continue as it requires longer-term support," Katrien Coppens, MSF's Sri Lanka operations manager, told AlertNet by phone from Amsterdam.
"We talked to many people – patients, authorities, staff – and there were different feelings about us closing down," she added. "Of course, people were not happy that we were leaving… and the sense that people felt abandoned is partly true, but not a feeling I got across the board."
Almost three years since Sri Lanka's civil war ended, experts say thousands of people are still living in torment, haunted by memories of the final months of fighting between separatist Tamil Tigers and government forces.
As a result, many of the war-affected exhibit anti-social behaviour and experience flashbacks, hallucinations, nightmares and suicidal thoughts.
Mental stress over poor rehabilitation and resettlement, combined with a lack of jobs and hope, has also driven men, in particular, to alcoholism. There have been many reports of domestic violence, child abuse and family separation in war-hit communities.
"DIFFICULT CLOSURE"
MSF's mental health project had run for 18 months in the island's war-torn northern district of Kilinochchi, providing one-to-one counselling for almost 500 patients.
Coppens said the decision to close it had been difficult because of the ongoing need for support.
"MSF opens a project knowing that when the situation changes, we will eventually shift our resources to other emergency crises. Knowing when to open is pretty easy," she said.
"Deciding when to close is always less clear. Closures are always difficult because the situation is never perfect, but it is time for MSF to put its resources into operations that are more in line with our mandate as an emergency humanitarian relief organisation," she added.
Coppens said MSF is continuing mental health support in the neighbouring district of Mullaitivu. She is hopeful that other agencies, as well as the Sri Lankan authorities, will honour commitments to provide aid of this kind.
Restrictions on aid groups working in the former war zone have now been removed, she said. This should help bring in better-equipped charities to train doctors and nurses, and mainstream mental health support into general public healthcare.
(For updates you can share with your friends, follow TNN on Facebook and Twitter )