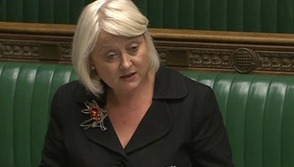 Opposition British Parliamentarian (Labour) Siobhain McDonagh on Thursday had questioned the British government at the House of Commons about the war crimes allegations leveled against the defence attaché at Sri Lanka's high commission in London, Major General Prasanna De Silva
MP  Siobhain McDonagh told House of Commons that if Major General Silvais allowed to leave without being questioned, that "will undermine Britain's proud reputation for not tolerating war criminals"
MacDonagh also said, "three months ago a dossier about war crimes committed by the defence attaché at Sri Lanka's high commission in London, Major General Prasanna De Silva, was sent to the Foreign Office. However, the Foreign Secretary has reportedly refused to strip him of diplomatic immunity so that he can be questioned about these terrible accusations.
I hope we can have a debate about the case and about the abuse of diplomatic immunity, because if the attaché is allowed to leave without being questioned, that will undermine Britain's proud reputation for not tolerating war criminals. If we are soft on Sri Lanka, other shady regimes will surely also begin to regard us as a refuge for people who commit atrocities."
In response to the claims, Leader of the House of Commons Sir George Young stated that "I understand the hon. Lady's concern. It is important that diplomatic immunity is not abused.
There was an opportunity on Tuesday to raise this with the Foreign Secretary. I am not sure that it will be possible to raise it again before Prorogation, but I will ask the Foreign Secretary to drop her a line explaining what action he is taking in response to her concern about the continuing diplomatic immunity of the individual to whom she referred."
(For updates you can share with your friends, follow TNN on Facebook and Twitter )