Claiming that political solution for devolution of powers to Tamil areas in Sri Lanka remained merely on paper, DMK chief M Karunanidhi today made a fresh demand for a separate 'Eelam' (homeland) for Lankan Tamils and sought the Union Government's help on the issue.
"Sri Lankan Tamils will not be satisfied with anything less than Tamil Eelam considering that assurances of political solution or devolution of powers have not come into practice and remain only on paper," he said.
Writing in party mouthpiece 'Murasoli,' the DMK patriarch charged Colombo with "lack of honouring the given word," and referred to hardships faced by the Tamils including settling as refugees elsewhere to buttress his claim that Tamil Eelam was the only solution for the decades-long ethnic friction.
He said the issue cannot be solved by "excesses or authoritarian measures," and it was time that the matter was solved without further delay.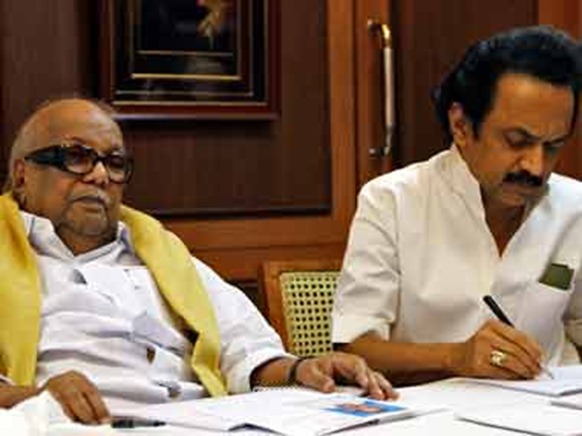 File photo of DMK chief with son Stalin. Reuters
In this regard, he sought India's help recalling its role in the liberation of Bangladesh from Pakistan.
"Am I asking for a similar approach (of military intervention?) All I ask is for a globally accepted method of referendum to decide on Tamil Eelam," he said, adding, countries including South Sudan, East Timor and Montenegro had come into existence only by way of referendum at the behest of UN.
He had recently demanded that India extend "required support and pressure," on UN for a referendum for a separate Tamil Eelam.
The demand for a Tamil Eelam had been on for long due to various factors including the "imposing" of Sinhala language on minority Tamils, Karunanidhi said.
(For updates you can share with your friends, follow TNN on Facebook and Twitter )