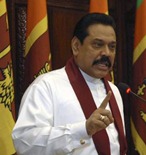 'Issue of implementing it wasn't even raised at Sushma-Rajapaksa meeting'
An English newspaper in Sri Lanka has claimed that no discussion was held regarding devolution of powers to States when a delegation of Indian MPs met President Mahinda Rajapaksa on April 21, and when he met the leader of the delegation for an unscheduled meeting on April 20.
"The Sri Lankan government on Monday strongly denied a statement attributed to Indian Opposition Leader Sushma Swaraj, that her delegation had received an assurance from Mr. Rajapaksa on his commitment to the 13th Amendment, and his readiness to go even beyond it," the newspaper, The Island, reported on Tuesday.
This is an exact replay of what happened with External Affairs Minister S.M. Krishna in January 2012. Soon after Mr. Krishna met the President, the Indian side released to the press a statement, which said the President had agreed to the implementation of the 13th Amendment (which grants some powers to the provinces) as a means to cater to the hopes and aspirations of Tamils in the Northern Province. Then, too, there was no briefing from the government side. A day later, the government's preferred newspaper, The Island, quoting the President, said he had not discussed 13-plus with Mr. Krishna.
Now, it is Ms. Swaraj's turn. She met the President for an unscheduled breakfast meeting on April 20 and with the MPs delegation on April 21.
The delegation was here to study the ground situation, and was the outcome of a heated debate during the last winter session, on the plight of Tamils in Sri Lanka.
Again, it is The Island that reported that the issue of implementing 13-plus wasn't even raised at the meeting between Ms. Swaraj and Mr. Rajapaksa. "GoSL sources said that President Rajapaksa had met the Indian Opposition Leader twice on Friday and Saturday, but such an assurance was never given."
"During Saturday's breakfast meeting at Temple Trees, President Rajapaksa recalled how India had forced the 13th Amendment on the then Sri Lankan President J.R. Jayewardene. Saturday's meeting was attended by the entire Indian delegation, along with Indian High Commissioner Ashok K. Kantha, now engaged in a stepped-up campaign for the full implementation of the 13th Amendment to the Constitution, sources said," the newspaper's Page 1 story said.
At a press conference at the end of the visit of the MPs delegation to Sri Lanka on April 21, Ms. Swaraj was asked of the President's assurances on the political solution. This was her reply: "The President himself spoke of the 13th Amendment. So it isn't a question of a Minister saying or denying or confirming it. The President himself said 13th Amendment plus."
Sri Lanka had promised devolution of powers to meet the aspirations of Tamils in May 2009 to Ban Ki-moon; in June 2010 to Manmohan Singh; in January 2012 to S. M. Krishna.
(For updates you can share with your friends, follow TNN on Facebook and Twitter )