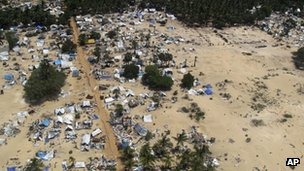 Unexploded cluster munitions have been found in Sri Lanka, a UN expert on land mines has claimed.
In an email, Allan Poston said that small bombs from the weapons were discovered in the north of the country, near to where a child was killed in an explosion last month.
The government has denied it used cluster bombs during the civil war with Tamil Tiger rebels.
They are banned under an international treaty that took effect in August 2010.
The treaty has been signed by more than 60 countries, but not Sri Lanka, China, Russia, India, Pakistan and the US.
Washington argues that the bombs are a legitimate weapon of war when used properly.
This would appear to confirm witness allegations that such weapons were used in the war with the rebels, the BBC's Charles Haviland in Colombo says.
Our correspondent says there have been several allegations from civilians since the war ended – testifying before a war panel and elsewhere – that the government used cluster bombs.
The UN says that tens of thousands of civilians may have been killed in the last few months of the Sri Lankan war in 2009.
Cluster weapons scatter small bomblets indiscriminately. Those that do not explode often maim or kill civilians, in some cases years later.
The AP news agency on Thursday said that it had obtained a copy of an email written by Mr Poston.
Mr Poston is the technical adviser for the UN Development Programme's mine action group in Sri Lanka.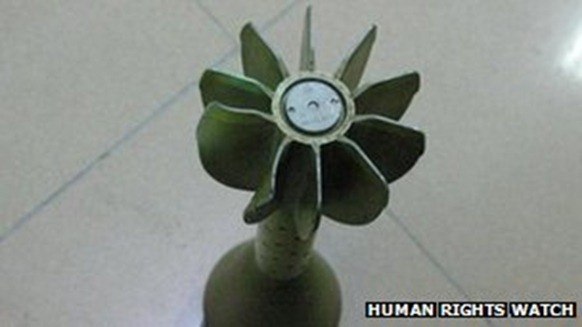 Cluster bombs have been banned by more than 60 countries
It said that the unexploded cluster bomblets were discovered in the Puthukudiyiruppu area of northern Sri Lanka.
It is the same area where a boy was killed in March as he and his sister tried to pry apart a device which they hoped to sell for scrap metal.
"After reviewing additional photographs from the investigation teams, I have determined that there are cluster sub-munitions in the area where the children were collecting scrap metal and in the house where the accident occurred," the email said.
"This is the first time that there has been confirmed unexploded sub-munitions found in Sri Lanka."
Sri Lankan military spokesman Brig Ruwan Wanigasuriya said the armed forces had "not used any bombs that fall into the category of cluster munitions".
Asked whether Tamil Tiger rebels might have done, he said there had been such allegations but he could not substantiate them.
He said that the military has now asked the UN for any evidence they have to support the claims.
BBC News – Cluster bombs found in Sri Lanka, UN expert says
(For updates you can share with your friends, follow TNN on Facebook and Twitter )