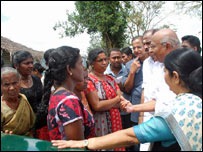 The Indian government should do more to invest and promote investment in order to improve the life standards of Sri Lanka's Tamils, a group of Indian parliamentarians who recently travelled to Sri Lanka has said.
The four members of the delegation that recently visited Sri Lanka on a fact finding missing have submitted a memorandum to the Indian prime minister with their suggestions.
The 10-part plan includes how the Indian government could take part in the enhancement of the state of the Tamil people in Sri Lanka, a member of the group, Sudarshana Nachiappan told the BBC Tamil service.
"We have suggested that the housing scheme of 50,000 housing is very very slow and it has to be taken over by Indian companies," he said.
The members of the ruling Congress Party have handed over their recommendations in a meeting held on Saturday with Dr Manmohan Singh in the capital, Delhi.
'Military alone'
"What we could understand is rehabilitation work is done by the military alone because of the resource crunch and also the human resource crunch is there in Sri Lanka," said Mr Nachiappan, an MP in India's Upper House of the parliament, Rajya Sabha.
The group has suggested that India could send some survey and settlement officials from India, with the consent of Sri Lanka government, to help identify the lands belong to Tamil refugees who are still in refugee camps in Tamil Nadu.
The lack of employment opportunities for the Tamils in Sri Lanka, as well as lack of resources in education sector are some other issues identified the delegation.
"Similarly we suggested that there is need for teachers for English, science, mathematics and other subjects. They can be sent and universities should have some sort of tie up with to have the medical, engineering and IT education in the north and the east," added Mr Nachiappan.
He said that the recommendations include creating a special channel by India, only on the invitation of Sri Lanka government, for the Tamil diaspora to invest in Sri Lanka.
An all-party delegation of Indian MPs who recently visited Sri Lanka travelled to the north, including the refugee camps, and held talks with Sri Lanka officials. MPs representing the two major political parties in Tamil Nadu boycotted the delegation.
The spokesman for President Mahinda Rajapaksa, Bandula Jayasekara, earlier told BBC Sandeshaya that the president politely rejected the request by the delegation to demilitarise the Tamil-dominated north.
(For updates you can share with your friends, follow TNN on Facebook and Twitter )