Samantha Power, Senior Director for Multilateral Affairs and Human Rights, National Security Council of the Obama administration, and a long time advocate of genocide prevention in Bosnia and around the world will chair the newly created Atrocities Prevention Board, sources in Washington said. President Obama made the announcement when he spoke at the United States Holocaust Memorial Museum commemorating the Holocaust Remembrance Day. Observers pointed out that the "Crime of the 21st Century" where Sri Lanka military forces killed more than 40,000 unarmed Tamil civilians, occurred in 2009 under Obama's watch while the President was making a statement of the imminent slaughter from the east-side lawn of the White House.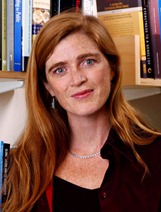 The Board had its first meeting Monday afternoon, bringing senior officials across the government and NGO communities to discuss ways to increase the U.S. efforts in protecting innocent men, women and children from genocide across the world – an effort President Obama called "a core national security interest and a moral responsibility of the United States."
With regards to Sri Lanka's alleged genocide, diplomatic cables revealed by Wikileaks indicated that the then US Ambassador, Robert Blake was aware of the possible slaughter, and is allegedly complicit in creating a coalition of western countries that facilitated Colombo to carry out the war.
Tamil circles, confounded by the timing speculated if the creation of Atrocities Prevention Board was a politically motivated act in preparation for indicting the Syrian Government, or if it was a genuine act rooted in the earlier pronouncements by the President on the need to prevent genocide, that will necessarily corner Sri Lanka into the Board's mandate.
President Obama said at the holocaust commemoration: "For the Holocaust may have reached its barbaric climax at Treblinka and Auschwitz and Belzec, but it started in the hearts of ordinary men and women. And we have seen it again – madness that can sweep through peoples, sweep through nations, embed itself.
"The killings in Cambodia, the killings in Rwanda, the killings in Bosnia, the killings in Darfur – they shock our conscience, but they are the awful extreme of a spectrum of ignorance and intolerance that we see every day; the bigotry that says another person is less than my equal, less than human. These are the seeds of hate that we cannot let take root in our heart" said Obama.
(For updates you can share with your friends, follow TNN on Facebook and Twitter )