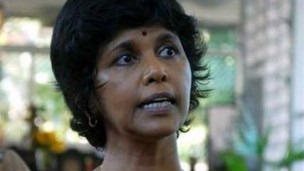 The Sri Lankan government has demoted its ambassador to the UN in Geneva after the Human Rights Council adopted a motion critical of the country.
Tamara Kunanayakam – one of the few Sri Lankan ambassadors who are Tamil – has been reappointed as the envoy to Cuba, a post she vacated nine months ago.
She will be removed from the Geneva post in July despite expressing strong wishes to stay in the job.
The transfer comes amid reports of divisions within the foreign ministry.
A senior official said her transfer back to Cuba was a routine matter and had nothing to do with the UN motion.
But it coincides with the emergence of an apparent rift in the foreign ministry, with one presidential adviser warning of "destructive elements" at work.
Ms Kunanayakam had been in the post just nine months and her removal means Sri Lanka will have had four Geneva ambassadors in the space of three years.
In a letter to the foreign minister on 1 May – and in subsequent media interviews – Ms Kunanayaka said she had loyally carried out the instructions of President Mahinda Rajapaksa.
Ironically, she said the president had ruled out reappointing her to a previous posting like Cuba as this "would be interpreted as a demotion".
"Removing one of the very few Tamils heading diplomatic missions abroad will allow questioning of the government's commitment to reconciliation," she said.
Furthermore it would "reinforce extremist elements on all sides".
She told BBC Sinhala she totally rejected being removed from her current post, which she said would heighten perceptions of ethnic tensions.
"We will fall into the hands of those who say there is a conflict between Sinhala and Tamil."
In 2009 the Sri Lankan government defeated Tamil Tiger rebels fighting for a separate homeland in the country after 26 years of civil war.
'Completely routine'
Foreign ministry secretary Karunatilaka Amunugama told the BBC that Ms Kunanayakam was only expressing her personal views.
"It's not a question of someone being happy or unhappy but having the best people for the right places," he said.
Mr Amunugama insisted that her nine-month stay in the post and reappointment to her previous position were completely routine and had nothing to do with the Geneva human rights vote.
The transfer was decreed by the president on the recommendation of the minister of external affairs, he said.
Ms Kunanaykam has been a stalwart advocate of the government's position, defending its human rights record and the divisions may be centred around personalities and factions rather than around ideology or doctrine.
Last month another senior diplomat, the ambassador to France, Dayan Jayatilleka, said he was "indignant and outraged" after a senior foreign ministry official wrote a letter threatening to charge him under Sri Lanka's penal code.
(For updates you can share with your friends, follow TNN on Facebook and Twitter )