The statue of the chief deity of Pi'l'laiyaar temple in Punaanai, situated 52 km northwest of Batticaloa, has been reported missing after the occupation of a plot of land close to the temple by a Buddhist monk sent by Colombo-based Buddhist organizations, says C.Yogeswaran, the Batticaloa district Tamil National Alliance (TNA) parliamentarian. Punanai is a border village located along Batticaloa – Polonnaruwa road that runs through Sri Lanka Army garrisons situated between Punaanai and Welikande. Recent reports have also exposed Sinhalicisation taking place in Vadamunai, situated southswest of Punanai.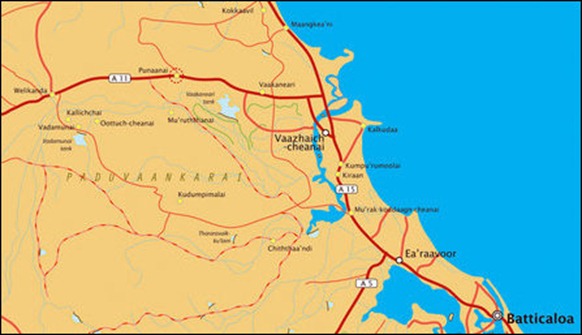 The location of Punaanai. Click to enlarge the map [Map by TamilNet]
Earlier, Saiva devotees were unable to visit the temple and perform religious rites due to the location of an SLA camp of the occupying Sri Lanka Army in its close proximity. The temple is located close to Punaanai railway station.
After the camp was shifted from the area and located elsewhere, Saivites are now able to visit the temple to perform their religious rites. But, according to the villagers, the SL military is still regarding the area as a high security zone.
In the meantime, a Sinhala Buddhist monk, who has arrived recently to the area with the backing of Colomb-based Buddhist organisations and the SL military, is occupying a land close to the Saiva temple.
At this juncture, the disappearance of Pi'l'laiyaar statue from the temple has created suspicion among the Tamil Saiva community that the Buddhist monk is operating with a hidden motive of Sinhalicising the area, Mr. Yogeswaran told media.
Similar thefts have also been reported in Vaakarai DS division in the north of Batticaloa district.
The members of Saiva community and temple authorities have made complaints to the SL police about the theft of statues of Saiva deities from Paal-chenai Periyaswamy temple. Paal-cheanai, earlier controlled by the LTTE, was occupied by the SLA in 2007.
The Sinhalicisation, which was earlier blocked by the presence of the LTTE forces from Kudumpimalai in the South to Vaakarai in the north, is now taking place along Batticaloa and Polonnaruwa border.
(For updates you can share with your friends, follow TNN on Facebook and Twitter )