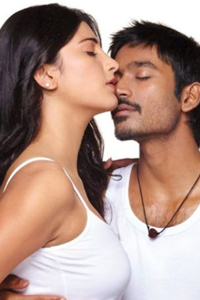 '3' doesn't cease to make headlines, be it for good reasons or bad. Following the 'Kolaveri…' popularity, the film was in news for a 'rift' between Dhanush and Aishwarya and now for the reported losses '3' distributors are seeing.
Kasthuri Raja, Dhanush's father and the film's producer, has been facing severe allegations from Natti Kumar, who bought the Telugu rights of the film. Natti had been demanding compensation from Raja for the huge losses incurred.  Hitting back at the allegations and terming them as ridiculous, Raja said that there was no truth in Natti's words.
Kasthuri Raja stated that Natti's cheques were bouncing and it was he who suffered a loss, "Even the cops are laughing away at Natti's baseless complaints.  If he continues to bring my name and that of my son and daughter-in-law, I will have no option but to file a defamation suit against him".
Natti Kumar instantly shot back on Kasthuri Raja's much-publicized public warning last Saturday. The producer came out before the media with full evidence of the agreements clinched with Raja and alleged that he was parroting lies at the request of a very noted film personality. In a detailed rebuttal, Natti elaborated on what had transpired between him and the producer.
He was visibly miffed with Raja's calling him a comedian. However, the controversy around '3' is not just about a financial loss. There is definitely something more than what meets the eye, say sources. The film flopped miserably especially in Andhra Pradesh with distributors reportedly suffering a loss of 80%!
(For updates you can share with your friends, follow TNN on Facebook and Twitter )