Mahinda Rajapaksa's scheduled visit to the British Monarch's Diamond Jubilee celebrations next week and his planned speech at Mansion House, and the UK government's endorsement of the genocide accused Sri Lankan president drew protests from hundreds of Eezham Tamils at a demonstration organized by the Tamil Coordinating Committee-UK (TCC-UK) at the Commonwealth Secretariat in London on Friday. "The invitation of Mr Rajapaksa who is manipulating geopolitical rivalries at the UN to evade international law flies in the face of the Commonwealth's claimed values of human rights and international law," Sasithar Maheswaran from the TCC-UK told TamilNet.
"The UK, which often blames China and Russia for inaction at international fora has also exposed its duplicity by allowing Mr Rajapksa to enter the country in the first place," he added.
Likewise, a petition submitted by the TCC-UK to the Commonwealth Secretariat urged the organization to immediately withdraw the invitation extended to Mr Rajapaksa for the Queen's Diamond Jubilee Lunch and demanded the Secretariat to take measures to suspend Sri Lanka until it ends its military occupation of the Tamil homeland.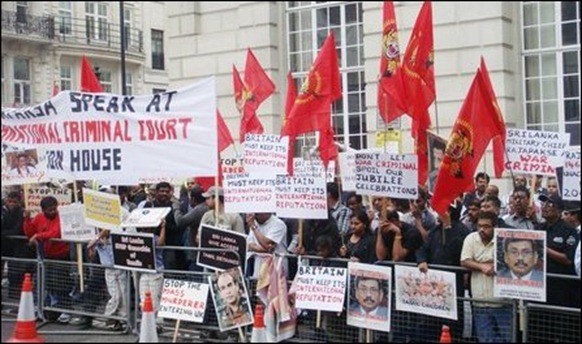 "Despite growing calls from human rights groups and the UN's High Commissioner for Human Rights for an independent international investigation into the war crimes and crimes against humanity committed by Sri Lankan armed forces, Mr Rajapaksa has continued to resist any such measures designed to preserve international law," the petition further read.
"The invitation of such an individual to a ceremonial lunch by the Commonwealth, which claims to founded on values of human rights and rule of law, is most disturbing."
"While many Sinhala-Buddhist leaders of the past have gone unpunished for their part in the genocide of Eelam Tamils, the vast amount of evidence stacked against Mr Rajapaksa, in the information era, should be seen as an opportunity to finally uphold international law and help halt the genocide."
Mr Rajamanoharan from the TCC-UK concluded the event stating that if Rajapaksa arrived in the UK, there would be massive demonstrations outside Mansion House on 6th June.
PDF: Tamil petition to the Commowealth Secretariat in London
(For updates you can share with your friends, follow TNN on Facebook and Twitter )