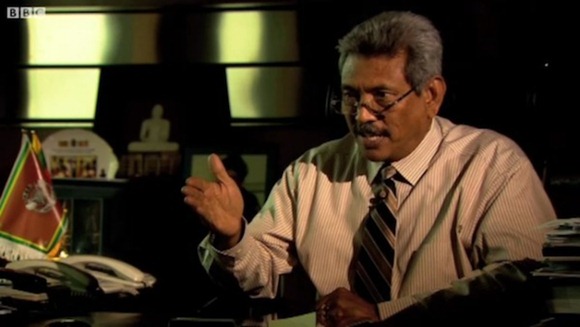 Screen grab from BBC video
In March after making a feature on enforced disappearances for the BBC, I made a further radio broadcast for our From Our Own Correspondent programme, later expanded for Groundviews, saying that I hoped Sri Lanka's top leaders would be able to give answers about the fate of recent victims of enforced disappearance in Colombo and other cities.
The Defence Secretary, Gotabhaya Rajapaksa, has dashed any such hopes in my BBC interview with him broadcast earlier this week.
He shed no new light on what has happened to Ramasamy Prabagaran, Nethiyas Chandrapala, Lalith Weeraraj, Kugan Muruganathan, Upali Mendis, Stephen Suthararaj or other unfortunate victims.  Instead he suggested lists of victims were inflated or that the disappeared were criminals or the victims of kidnapping for ransom.  As for any suspicion that the state was in some cases responsible, he said the government had no interest in doing such things.
"No, that is wrong actually – you are taking this from some website," was his initial response when I mentioned missing people.  [Editors note: In an interview published in the Sunday Leader newspaper on 27 May 2012, Gotabaya Rajapaksa mentioned Groundviews as the site which published figures on disappearances] I cited the case of Ramasamy Prabagaran, whose wife I interviewed after she saw him dragged away screaming by occupants of a white van, two days before he was due to testify that the police had severely tortured him in detaining him from 2009 to 2011.
To this he said that of about 59 cases since October, which he said a diplomat had mentioned to him, 18 were "completely false".  Others had been solved.  "It can happen – people can abduct and ask for money."  There were only eight cases that could not be accounted for, he said.
"But I want to tell you this," he added.   "There are a lot of people that commit crimes here…  There are certain people who are in the underworld, who are responsible for a lot of crime and who are drug dealers who do various things here – and they escape – it's very easy to go to India through various means.  [They] escape to India, south India."
This echoed other government statements to the effect that some missing people – including the cartoonist and journalist Prageeth Ekneligoda – had somehow "disappeared" of their own choice.
My response to Mr Rajapaksa was that many families were mourning for their missing loved ones and there was no indication that they had gone abroad.  He said that in one recent case a woman had reported her son abducted but he had then turned up in Canada and committed a crime.  I said there were, nonetheless, recent very real cases in Colombo.  He said these were "wrong allegations".  I said they were not wrong as I had met close family members, upon which he said, humorously, that I shouldn't get angry as he was usually the one that did that.
He continued by implying that the whole affair was concocted to damage the image of Sri Lanka (or its government):
"I am the Secretary Defence.  I have  investigated this.  Don't take the word from these people.  Take the word from me…  These are wrong allegations.
"I have investigated these things.  These are not correct…  These are lies to give a wrong picture of Sri Lanka… a wrong image of Sri Lanka by the rump of the LTTE who is remaining outside and trying to damage the image of Sri Lanka."
I asked next about the case of Sagara Senaratne, a former local councillor who was taken away in a mysterious white van in March and said that he was aware of another man being assaulted in the back of the same vehicle.
Mr Senaratne happened to be the brother-in-law of a government minister, Jeevan Kumaratunga.  He told the pro-government newspaper 'Divaina' that he was abruptly freed after his driver contacted Mr Kumaratunga who contacted the Defence Secretary and the President.
He was grateful to them for saving his life, he said.  But, I said to Gotabhaya Rajapaksa, it seemed to some that the government was involved in such abductions.
"No we are not committing the abductions.  Why should we abduct a minister's relation or someone?" he said.  There were in fact several cases where he had helped track down and free victims of kidnapping for ransom.
As for Ramasamy Prabagaran, it was not necessary to "harass" such a person given that the government had freed many LTTE suspects or others arrested for various crimes since the end of the war.  He said 11,000 surrenderees had been put through the rehabilitation process; and that 4,000 other long-term detainees, kept in high-security facilities like Boossa, had been reduced in number to 234.  They, too, had been rehabilitated and released.
"People don't talk about the action that we have taken for these detainees," Mr Rajapaksa said.  "It's very unfortunate to take isolated cases."
In the same breath, then, the Defence Secretary mentioned a recent abduction case in Colombo and the separate issue of thousands of LTTE suspects.
Ultimately, he said, it was up to the police to look into cases of disappearance.  As there has been almost no police progress in dozens of disappearance cases, this gives no comfort to the families still wondering where their loved ones are.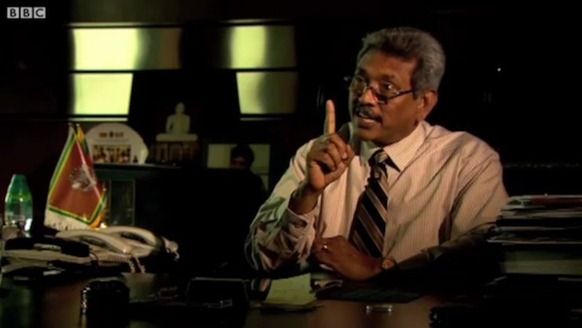 Watch a video featuring excerpts of the interview with the Defence Secretary Gotabaya Rajapaka on the BBC website.
(For updates you can share with your friends, follow TNN on Facebook and Twitter )