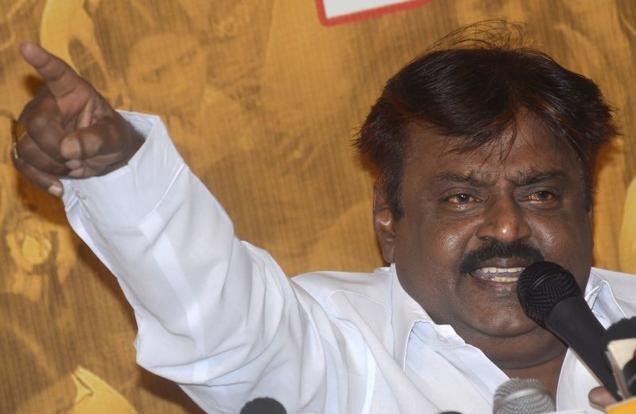 The Desiya Murpokku Dravida Kazhagam (DMDK) led by actor Vijayakant has decided to boycott the Presidential elections on the ground that the Centre has failed to secure justice for Tamil Nadu on various issues, including inter-State river water disputes.
The DMDK, which contested the 2011 Assembly elections as part of the AIADMK alliance, has 29 members in the Tamil Nadu Assembly and is the principal Opposition party. Each MLA in Tamil Nadu Assembly carries 176 votes in the Presidential elections.
In a statement here, Mr. Vijayakant said that farmers of Cauvery delta could not go ahead with 'kuruvai' (short-term paddy) cultivation owing to lack of storage in the Mettur dam since Karnataka had refused to release water for irrigation.
"The problem has been persisting for the last four decades and people in the delta region are forced to migrate to other States in search of jobs," he said. The water level in the dam could not be raised to 142 ft because of the adamant attitude of Kerala.
Mr. Vijayakant said though linking of rivers could help water-starved States, the Centre was dodging the project, citing environmental considerations.
He said that the handing over of the Katchatheevu to Sri Lanka had deprived Tamil Nadu fishermen of their fishing rights.
The Centre did not bother to intervene and stop the killing of lakhs of Tamils in the civil war in Sri Lanka. "In fact it co-operated with the Sri Lankan government in the war against the Tamils."
He said that even in Singapore, Tamil had been given the status of the one of the official languages, but in India, the language did not have such recognition.
Recalling his appeal to political parties in Tamil Nadu to boycott the 2009 Lok Sabha polls to protest the Indian government's failure to protect Tamils, he said who the country's President was would be irrelevant to Tamils when their problems remained unsolved. "Boycotting the Presidential poll will be a great service to Tamil Nadu."
(For updates you can share with your friends, follow TNN on Facebook and Twitter )