National Security Adviser Shivshankar Menon on Friday refused to commit if India was satisfied with Sri Lanka's peace and reconciliation process with Tamils, saying "the goal [of the Indian engagement] is much bigger…[It is] to get this [the reconciliation process] to the right place."
Three years after the end of Eelam War IV, there is no forward movement on accommodating Tamils' hopes and aspirations. The Tamil-dominated Northern Province still does not have an elected provincial council. It's also the most militarised. Mr. Menon's trip, the shortest in recent times by an Indian official, was to take stock of the process and convey the Indian thinking. India had not set a date for Sri Lanka to complete the political process.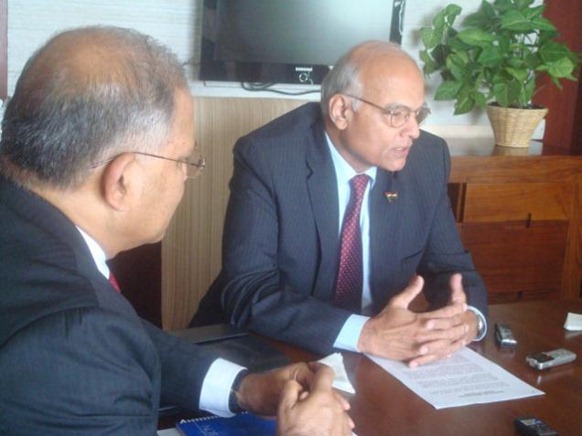 National Security Advisor Shiv Shankar Menon addresses members of the Indian Media after meeting Sri Lankan President Mahinda Rajapaksa, in Colombo on Friday. Indian High Commissioner to Sri Lanka Ashok K. Kantha is to his right. Photo: R.K. Radhakrishnan
"I don't think that is the way it is going to move forward," Mr. Menon told reporters.
Asked if he was satisfied with the pace of progress on the reconciliation front, he said: "Again, you are asking me if it is good, bad etc… I have told you what we would like: a united Sri Lanka, within which all communities feel they are in control of their own destiny, and they are satisfied. They have told me what they are doing, briefed me on where they are going, how they can take it forward. Ultimately they have to move it forward themselves. They will…. We are not going to sit here and make the atmosphere either easier or more difficult by making statements."
"Political reconciliation is clearly a Sri Lankan issue which Sri Lanka has to do, but India will continue to remain engaged with all concerned and continue to support their efforts. We will continue to support, help…do whatever we can to make sure that it moves in the right direction."
Mr. Menon said he was "not going to sit in judgement of anyone in this process" and discuss if the pace was proper or not. "This is something that has to get done. This is not a judgemental process — you like this, you don't like this – That is not how it works."
The hopes of Tamils could only be accommodated through a political process. This was an "internal political process. We have to also look at that. It is a process that has ramifications for all of us. And it is not something that started today or yesterday" or a few years ago.
Describing his short visit as "part of the regular consultations that the governments of India and Sri Lanka" have, he said "bilateral relationship, recent developments and areas of common concern" formed part of the discussions with President Mahinda Rajapaksa and his brothers Gotabaya Rajapaksa (Defence Secretary) and Basil Rajapaksa (Minister for Economic Development). Mr. Menon also met Tamil National Alliance leader R. Sampanthan.
Fishermen issue
Asked if the fishermen issue figured in the discussions, he said both sides recognised this as a livelihood issue that had to be dealt with humanely. The fishermen associations on both sides were in touch with each other. They have have reached some preliminary understanding. "We hope that they can meet and carry with forward. We will work with fishermen on both sides to take this forward." Maritime security and cooperation issues also were on the table.
(For updates you can share with your friends, follow TNN on Facebook and Twitter )