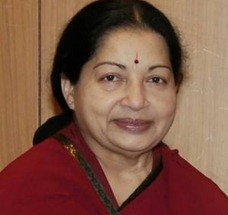 Tamil Nadu Chief Minister Jayalalithaa's demand to scrap training courses for Sri Lankan Air Force personnel is unlikely to find takers in New Delhi because Sri Lanka and India, just last week, have decided to enhance cooperation in security issues.
Asked for a reaction, a senior official said that Sri Lanka could not react to the demands of a Chief Minister of an Indian State. All bilateral issues were discussed and decided by Colombo and New Delhi, and hence, there was no need to respond, the official said.
When there is an outside factor that affects training, as had happened earlier, the defence institutions moved the trainees to another facility in a 'neutral' State.
Despite relations between the two countries not being at its best in recent times following the Indian vote for a resolution against Sri Lanka at the United Nations Human Rights Council in March, defence and security cooperation between the two countries are firmly looking up.
Indian National Security Advisor Shiv Shankar Menon, after a meeting with Sri Lankan President Mahinda Rajapaksa, and Defence Secretary Gotabaya Rajapaksa, among others, told the Indian media stationed in Colombo last Friday, that security related issues were indeed discussed. "We also discussed maritime cooperation and other security related issues. It was agreed that we could take this further. Sri Lanka is our close neighbour, with whom we enjoy a multifaceted and dynamic relationship. We look forward to strengthening and further developing this engagement," he said.
After the Defence Secretary-level talks in December 2010, India had made available additional slots in Indian Armed Forces training institutions, apart from agreeing to hold bilateral exercises. The Indo-Sri Lanka Naval exercises were subsequently held off Trincomalee. India is also in the process of building two Off Shore Patrol vessels for Sri Lanka.
India's peacetime defence engagement with Sri Lanka was shaped in a series of talks after the fall of the Tamil Tigers in May 2009. The talks, which began at staff-level in the Army, Navy and Air Force then, has also seen the service Chiefs of all three Indian Armed Forces visit Sri Lanka to firm up this relationship. The Defence Secretary level talks are structured, institutionalised and periodic.
(For updates you can share with your friends, follow TNN on Facebook and Twitter )