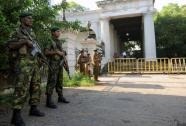 Courts across Sri Lanka were paralysed on Friday as judges and lawyers staged a boycott to protest alleged political interference with the judiciary, activists said.
The influential Bar Association of Sri Lanka stayed away from courts to protest the alleged intimidation of a magistrate in the island's northwestern town of Mannar earlier in the week.
"Courts across the court did not function today because of the protest," secretary of the Judges' Association, Pradeep Jayatillake told AFP. "We endorse the move by the Bar Association to stay away from hearings today."
He said a government minister had threatened the magistrate in the town of Mannar to change an arrest order.
"This is a direct interference with the judiciary," he said.
The Mannar judge had issued an order for the arrest of suspected arsonists who had attacked settlers in the region and the minister is alleged to have intervened to revoke the order which was said to be against his supporters.
Judge Jayatillake said a mob had stoned the Mannar court house on Wednesday, forcing police to fire tear gas to disperse angry mobs and rescue the magistrate who had ordered the arrest of arsonists.
There was no immediate reaction from the government.
Activists said they were yet to decide if the boycott would continue on Monday when courts open after the weekend.
The Hong Kong-based Asian Human Rights Commission said it welcomed the action by the judges and lawyers as a "very important step in the fight back against the serious undermining of the courts".
Sri Lanka lifted a state of emergency last year after concluding a decades-long ethnic conflict in 2009.
(For updates you can share with your friends, follow TNN on Facebook and Twitter )