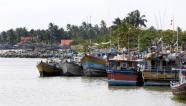 Sri Lankan navy officials have urged Australia to deport the growing number of boatpeople arriving from their country, saying it was the "best way" to deter people smugglers, a report said Saturday.
Sri Lanka's naval operations director Commodore N. Attygalle and its head of naval intelligence Nishantha Ulugetenne told The Weekend Australian newspaper, Canberra ought to turn Sri Lankan asylum-seekers straight back home.
"When you start deporting then this problem will ease for us," Commodore Ulugetenne told the newspaper.
"More than 1,500 Sri Lankans have landed in Australia in the last six months. What are you going to do with them, screen them one by one?"
Authorities in Colombo have seen a spike in people-smuggling traffic from its shores in recent months even though they have disrupted several attempts involving hundreds of asylum-seekers.
The surge has fuelled a political deadlock over the issue in Australia, with the government wishing to transfer boatpeople to Malaysia as a deterrent measure but the conservative opposition blocking the plan.
Attygalle said towing boats out of Australian waters, as proposed by the opposition, would not work because smugglers would sabotage the boat in order to force a rescue and agreed that "the best way is deportation".
Sri Lankans account for 22 percent of the 5,815 people currently in Australian asylum-seeker detention, second only to Afghanistan in terms of numbers. Only 83 percent of refugee applicants are successful.
The rate was 100 percent during the height of hostilities between Sri Lankan forces and the separatist Liberation Tigers of Tamil Eelam in 2009 which ended a decades-long civil war and left up to 100,000 dead.
A spokeswoman for Immigration Minister Chris Bowen said Canberra "routinely" returned asylum-seekers to Sri Lanka not found to be genuine, both voluntarily and involuntarily, and saw it as a "crucial" element of the refugee system.
"The government will continue to pursue removals of failed asylum seekers who have exhausted their appeal rights and are found not to be owed protection," she told AFP.
"People who are owed Australia's protection under international obligations will be granted protection. People found not to be owed protection will be removed from Australia."
(For updates you can share with your friends, follow TNN on Facebook and Twitter )