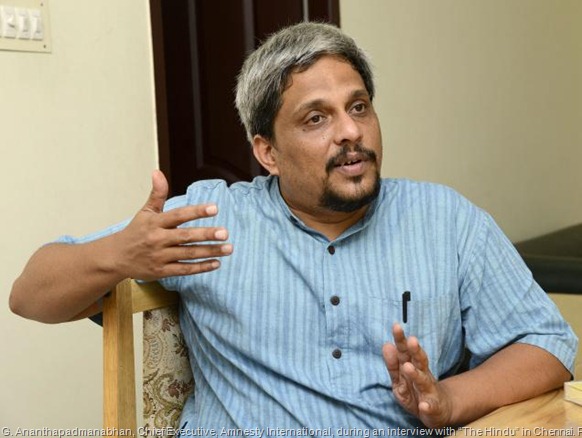 An impartial investigation led by the United Nations is the only way to render justice to those affected by war crimes in Sri Lanka, Amnesty International Chief Executive in India G. Ananthapadmanabhan has said.
The island nation will soon be in the international eye thanks to the impending Commonwealth Heads of Governments meeting and the U.N. Universal Periodical Review of Human Rights practices in countries, he pointed out. There was no doubt there were gross human rights crimes in Sri Lanka, but they were not one-sided. The Liberation Tigers of Tamil Eelam was also responsible for violations such as recruitment of children into the force, he said.
"Nevertheless, there is a huge responsibility on the Sri Lankan government to ensure impartial investigation, followed by justice for these crimes. There have been lots of promises and some efforts with the Lessons Learnt and Reconciliation Commission [LLRC]. But we know that the latest report released in July on the progress in LLRC was cosmetic," he told The Hindu.
Mr. Ananthapadmanabhan said Amnesty felt a U.N.-led investigation was the only way to ensure justice. "There should be punishment based on the findings of the investigation. Officially, Amnesty is not welcome to Sri Lanka at this time … but we have our own ways to find out what is going on there."
Since the people of Tamil Nadu were very concerned about the Tamils in Sri Lanka, the State government had a responsibility to safeguard the interests of refugees and ensure that they were treated in accordance with the U.N. Convention on Refugees.
Mr. Ananthapadmanabhan expressed concern at pretrial detentions, saying 65 per cent of prisons in the country were filled with undertrials. The jails were overcrowded, making it difficult to administer them. "Several hundreds of prisoners are imprisoned for tenures that are much more than what is prescribed as punishment under law for the offence charged against them. With the existing laws and Supreme Court rulings, we can get many of them released."
Amnesty would continue to work for protecting the rights of adivasis. "We realise that human rights are not well framed or understood by a majority of the people. We think we have a role in creating human rights-friendly schools. Efforts are on to transform about 30 schools on those lines in Bangalore."
India, he said, was far from realising the constitutional dreams. Many rights guaranteed by the Constitution remained only on paper. "Human rights activists or whistleblowers are framed on arbitrary charges. The latest and the most prominent example is the case of Kudankulam [nuclear plant in Tamil Nadu] where protesters were accused of all kinds of things … charges were framed against them."
Mr. Ananthapadmanabhan, who will be addressing the TESO (Tamil Eelam Supporters Organisation) conference in Chennai, said the Eelam issue was politicised in a very narrow way in Tamil Nadu. "There is no doubt that it [the conference] is a political meet. Yes, it is a platform that is political and politicised, but also a platform to raise the issue. The truth is also that there is a genuine empathy and feeling among the ordinary public in the State for the plight of Tamils in Sri Lanka."
(For updates you can share with your friends, follow TNN on Facebook and Twitter )