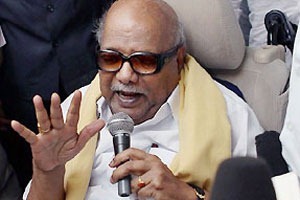 (Indian Express) The DMK leadership on Friday was dealt twin blows by both its ally at the Centre and the rival in the state over the conduct of the much-publicised conference to highlight the plight of Tamils in Sri Lanka.
While the Centre demanded that the word 'Eelam' (independent homeland for Tamils in Lanka) be removed from 'Eelam Tamil Rights Protection Conference', the state government told the Madras High Court it is inclined to reject permission for the meet, scheduled to be held on Sunday.
In a letter to DMK-led Tamil Eelam Support Organisation, which is organising the meet, the External Affairs Ministry said it has no objection to the proposed conference, provided 'Eelam' was dropped. The organisers had sought the ministry clearance for the meet on August 6.
Questions have been raised about the legality and propriety of the conference organised by a party shares power at the Centre but is seen supporting secessionist forces in a country in which New Delhi has made a lot of strategic political investment.
Though DMK chief M Karunanidhi has said, apparently under pressure from the Centre, that the meet is aimed at addressing humanitarian issues of the Lankan Tamils and not to demand a separate homeland for them, the latest missive has made it imperative that he either defy the Centre or explain to his partymen and allies why it is necessary to stay within the line drawn by the Centre.
Later in the evening, Karunanidhi visited the ground where the conference is to be held and said he was confident the police would give permission. Regarding the Centre's direction, he said it was impossible to order against the use of 'Eelam' as the word has been in existence for a long time.
Leader of DMK's ally VCK, Thol Thirumavalavan has termed the condition repressive, while Tamil nationalist leader P Nedumaran said the Congress was attempting to get rid of the DMK from the alliance and were waiting for an opportunity. BJP leader H Raja needled the DMK by challenging it to come out of the alliance and hold the meet as planned.
Meanwhile, at the High Court, hearing a plea against the meet, advocate general A Navaneethakrishnan made clear that the state government was in no mood to allow the meeting to take place citing technical difficulties.
Appearing for the organisers, advocate P Wilson contended that the authorities had enough time to decide on the matter as the application was submitted to the management of the meeting ground on July 2 itself.
(For updates you can share with your friends, follow TNN on Facebook and Twitter )