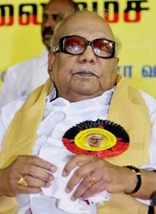 Key UPA ally DMK on Tuesday accused the Centre of hurting the sentiments of Tamil Nadu as it took strong exception to Minister of State for Defence M.M. Pallam Raju's comments that India would continue to train Sri Lankan defence personnel.
"It can be construed that the Centre is hurting the sentiments of Tamil Nadu and its people by this reply (of Raju)," DMK chief M. Karunanidhi said in a statement.
In the face of opposition by political parties in Tamil Nadu to the training being given to Sri Lankan defence forces, Raju had said on Monday that the training would go on.
"Sri Lanka is a friendly foreign country and the training will go on. Sometimes there are objections raised by local governments which we have to take into consideration," Raju had said.
The DMK chief said after the 2009 war (against LTTE), Sri Lanka was considering China and Pakistan as friendly nations rather than India. The Chinese Defence Minister was scheduled to visit Sri Lanka on August 29 apart from a high level Chinese delegation visit on September 15, he said.
Besides, China has implemented 14 projects worth Rs 36,000 crore in Sri Lanka which has also signed an agreement to buy aircraft, he said.
"How can India say Sri Lanka is a friendly country when China is giving six times more help to Sri Lanka than India. It can be termed as one-sided and how can it be considered as cordial?", he asked.
Seeking Prime Minister Manmohan Singh's intervention on Raju's remarks, Karunanidhi said the two Sri Lankan defence personnel undergoing training at Wellington in Tamil Nadu should be sent back and there should be no training for the island defence personnel hereafter.
(For updates you can share with your friends, follow TNN on Facebook and Twitter )