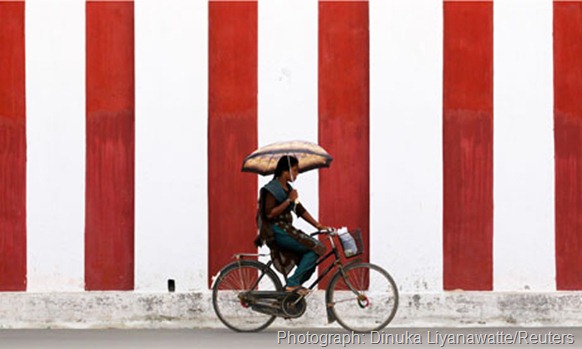 The UK is to go ahead with a mass removal of Tamils to Sri Lanka next week despite mounting evidence from human rights group that many of them could be tortured on their return.
At least two and possibly three chartered flights are scheduled to leave the UK from Wednesday carrying an unknown number of Sri Lankan Tamils whose pleas to remain in the UK have been refused. The UK Border Agency (UKBA) refuses to discuss such flights until they have landed.
The Home Office says it only removes people who face no risk of torture, but Freedom from Torture and Human Rights Watch both argue that the government has severely underestimated this possibility when it comes to returned Tamils, many of whom are routinely arrested and questioned about links with the Liberation Tigers of Tamil Eelam (LTTE) and activities in the UK, with torture often playing a part.
Such removals were halted while the Sri Lankan government fought a brutal civil war with the Tamil separatist group but resumed after the LTTE's military defeat in 2009.
In June the Guardian interviewed one man who recounted being beaten, hung and asphyxiated after being forcibly returned from the UK, testimony supported by a mass of scarring.
Despite the concerns, the UKBA is believed to be planning its biggest removal yet of Tamils, with two or possibly three flights leaving on successive days.
David Mepham, the UK head of Human Rights Watch, said the organisation had documented a series of cases of returned Tamils facing mistreatment.
He said: "Given the very serious risk of torture facing many Tamils returned from this country, the UK should immediately impose a moratorium on these returns, pending a thorough review of UK policy in this area and the introduction of new risk assessment guidelines."
Freedom from Torture has put together perhaps the most comprehensive study yet of the perils faced by Tamils returning to Sri Lanka from the UK. It tracked 24 cases of mainly young Tamils living legally in Britain who travelled back to Sri Lanka voluntarily, for example to visit family, and said they were detained and tortured. In half these cases the Tamils, once back in the UK, were referred to charities by NHS staff after they sought treatment for injuries, particularly burns caused by cigarettes or other heated objects.
The organisation's 16-page report noted: "This rate of referrals involving torture following return from the UK to a particular country is, to the best of our knowledge, unprecedented since Freedom from Torture was founded in 1985."
Such cases, the group concludes, show that even Tamils with LTTE associations who were previously allowed to leave Sri Lanka safely for the UK faced risks if they returned. It said: "The cases demonstrate that the fact the individuals did not suffer adverse consequences because of this association in the past does not necessarily have a bearing on risk on return now.
"It is a combination of both residence in the UK and an actual or perceived association at any level with the LTTE which places individuals at risk of torture and inhuman and degrading treatment in Sri Lanka."
Many of those who voluntarily returned were detained within days and questioned at length about their activities in the UK, indicating Tamils who had lived in Britain possibly faced an increased risk of mistreatment.
Types of torture commonly employed, according to testimonies, included beatings with cement-filled plastic pipes or clubs, whipping with cable, burns, partial asphyxiation using petrol-filled plastic bags, and sexual assault, including rape.
The 24 people were examined once back in the UK, with a majority of them showing significant physical signs of torture. One group had an average of 17 scars each which could be attributed to probable torture.
In the interview in June, the Tamil man, who was among two dozen asylum seekers deported by the Home Office the previous year, said he had been tortured over 17 days. His torturers accused him of passing on to British officials information about previous beatings at the hands of state officials and other human rights abuses, to ruin diplomatic relations between the two countries, he said.
A UK Border Agency spokesman said: "The UK has a proud record of offering sanctuary to those who need it, but people who do not have a genuine need for our protection must return to their home country.
(For updates you can share with your friends, follow TNN on Facebook and Twitter )