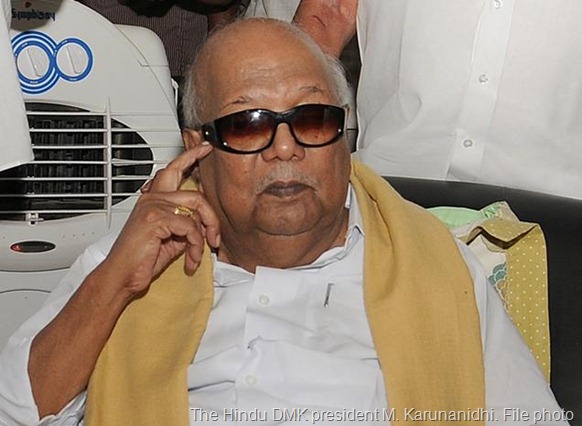 The visit of Sri Lankan President Mahinda Rajapaksa has evoked the most vociferous opposition from DMK president M. Karunanidhi, a partner in the Congress-led UPA alliance. Mr. Karunanidhi on Tuesday urged the Centre to stop his visit to the country later this week to participate in the celebration in Sanchi to mark the 2,600th year of Buddha's Enlightenment.
Mr. Rajapaksa will be in India on an invitation from the Madhya Pradesh government.
Mr. Karunanidhi said the United Nations Human Rights Council (UNHRC) was likely to look into the human rights violations in the last stage of the war against the LTTE in Sri Lanka and, according to media reports, India and Spain had been assigned the task of studying the issue.
"The resolutions of the Tamil Eelam Supporters Organisation (TESO) conference will be handed over to the United Nations at that time and Tamils across the world will closely monitor the stand to be taken by India. At this juncture, no person, who is a Tamil by birth will approve of Rajapaksa's visit and India's decision to welcome him," the DMK leader said.
Recalling his decision to boycott the Indian Peace Keeping Force (IPKF) on its return from Sri Lanka in 1990, when he was the Chief Minister, on the ground that it had aided the killing of Tamils, Mr Karunanidhi wondered how one could welcome Mr Rajapaksa who was responsible for massacring the Tamils. "The Indian government should keep this in mind and prevent his coming," he said.
Mr Karunanidhi also condoled the death of auto driver Vijayaraj, who had committed self-immolation in Salem to protest against Mr. Rajapaksa's visit.
"I respect his sacrifice. As opposition to this visit is emerging from all corners, the Centre should consider this," he said.
(For updates you can share with your friends, follow TNN on Facebook and Twitter )