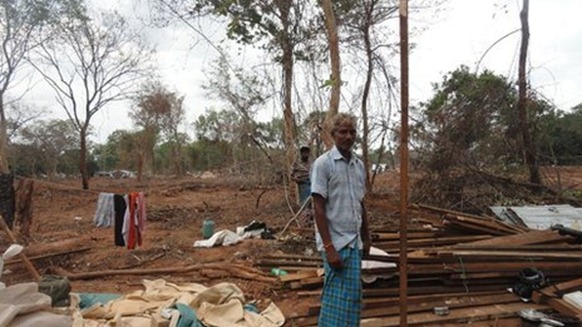 Some Sri Lankan Tamils who left a vast displacement camp this week say they were "left in the jungle" with no means to rebuild their homes and lives.
The final 1,160 residents of the Menik Farm camp left on Monday.
But 110 families from one village, Keppapilavu, say they have been prevented from going home and were relocated to a patch of cleared jungle.
Sri Lanka's army spokesman rejected the allegations, adding most people were "very happy" with the help they got.
Hundreds of thousands of Tamil people were displaced in the final months of the 26-year civil war between Sri Lanka's army and separatist Tamil Tiger rebels.
Their quest to resettle has been a major struggle, reports the BBC's Charles Haviland in Colombo. Three years on, demining has enabled most to return to their home villages but many houses lie ruined, our correspondent says.
Complaints 'rejected'
A minority of the families haven't been able to go home at all because their land has been taken by the military or swallowed up in the government's high-security zones, our correspondent adds.
But the 110 families from Keppapalivu say that Menik Farm was dismantled around them, even though they were not allowed to return home. Some allege this is because an army camp is being erected on that land.
The villagers told BBC Tamil they were taken to another village and allocated plots in cleared jungle with only tarpaulins for shelter, which then blew away because of heavy wind and rain. Soldiers had earlier helped some widows build temporary huts
Gajendrakumar Ponnambalam, a Tamil politician from the small and radical party, the Tamil National People's Front, has also been publicising the situation of the villagers. A colleague of his visited the site.
"The government hurried to empty the Menik Farm camp because of the universal periodic review on Sri Lanka's human rights situation coming up soon in Geneva," Mr Ponnambalam told the BBC.
But Brigadier Vijitha Ravipriya, acting spokesman for Sri Lanka's army, told our correspondent that virtually all displaced people were returning home and were "very happy" with the help the army was giving and that army camps were only going up on government land.
"People have to go to their villages. The military is helping them renovate and reconstruct their homes so the people are very happy," he said.
"I categorically reject the complaints. Some areas are no-go to prevent unnecessary accidents. There are only very limited areas of army camps and they are on government land," Brig Ravipriya added.
The United Nations has praised the government's resettlement programme, with one official describing it as "remarkable".
But the UN country office has said that it still has concerns for displaced people who cannot go home. It says many still live with friends and relatives and that a solution for those still displaced urgently needs to be found.
At one point Menik Farm housed 300,000 people, displaced as the army pursued and annihilated the Tamil Tigers.
(For updates you can share with your friends, follow TNN on Facebook and Twitter )