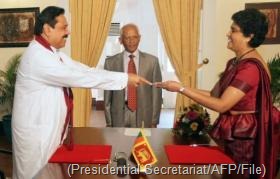 Sri Lanka should protect its judges from intimidation and attacks and halt the impeachment of the country's chief justice, a United Nations human rights expert said Wednesday.
"I urge the Sri Lanka government to take immediate and adequate measures to ensure the physical and mental integrity of members of the judiciary," Gabriela Knaul said in a statement.
The Special Rapporteur on the independence of judges and lawyers urged the authorities to "reconsider" its impeachment of Chief Justice Shirani Bandaranayake, the country's first women chief justice.
"The irremovability of judges is one of the main pillars guaranteeing the independence of the judiciary," the Brazilian rights expert said.
The Bandaranayake impeachment, announced on November 1 by the ruling party, the United People's Freedom Alliance (UPFA), showed that parliament could "exercise considerable control over the judiciary" and this was incompatible with international rights agreements, Knaul said.
The move to impeach the 54-year-old judge comes after the Sri Lanka Supreme Court last month effectively scuppered a bill giving more powers to the economic development minister who is the President Mahinda Rajapakse's younger brother, Basil.
Bandaranayake was appointed in May last year and she has another 11 years in office unless removed through an impeachment motion.
President Rajapakse's UPFA party has a two-thirds majority in parliament while an impeachment motion would only require a minimum of 113 of the 225 lawmakers for it to succeed.
However the process could take months and requires an address to parliament by the president.
(For updates you can share with your friends, follow TNN on Facebook and Twitter )