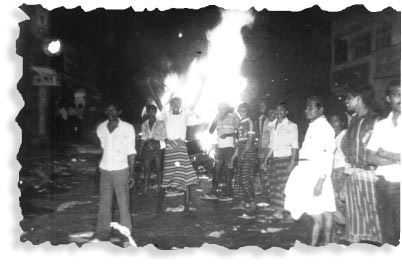 India and Sri Lanka have always enjoyed a special relationship not only due to their close geographical proximity but because of their cultural, religious and ethnic affinities and shared history. Sri Lanka President Rajapaksa has aptly described India-Sri Lanka relations as "family". Of course even such a sibling relationship has had its ups and downs.
There are three national and "national" concerns that affect India and Sri Lanka relationship: strategic security; grant of citizenship to people of Indian origin in Sri Lanka; and troubled relations between the Sinhala majority and the Tamil minority. All the three issues had tested India-Sri Lanka relations in various times.
Sri Lanka's geo-strategic location as a vanguard of India's peninsular south, dominating the Indian Ocean astride the sea lanes of Indian Ocean is, one of the centre pieces of Indian strategic thinking. This is more so after China's foot print started enlarging in Sri Lanka considered by India as part of its area of influence. On the other hand, Sri Lanka's feeling of geographic vulnerability is enhanced by the Tamil Nadu's strong sympathies for Tamil minority struggle in Sri Lanka. India's growing economic power and strategic strength supported by two-million strong army and a powerful Navy also imposes caution on Sri Lanka's strategic perceptions. However, both nations have tried to remove these fears by adopting close strategic cooperation between the defence forces as well as by regular exchange of their perceptions.
The denial of Sri Lanka citizenship rights to descendents of Tamils, who were inducted into Sri Lanka as plantation labour in the British colonial days after the country attained
independence, used to be a matter of India's concern. However, this vexing issue has ceased to be a contentious one, thanks to the far-sightedness of the leaders of both countries. The Shastri-Sirimavo Pact 1964 and the Sirimavo-Gandhi Pact 1974 partially resolved the issue. Subsequently thanks to the initiative of the leader of Indian Tamil community Saumyamurthy Thondaman, after Sri Lanka passed Act No. 35 of 2003 granting citizenship status to all stateless persons, the issue ceased to be a cause for Indian concern.
Sri Lanka's inability to provide equitable treatment to Tamil minority in its country has a history of five and a half decades and it has rocked India-Sri Lanka relation more than once. Tamils, who form around 12 per cent of Sri Lanka's population, have close links with their brethren across the Palk Straits in Tamil Nadu from times immemorial. And the denial of equitable rights to Tamils in Sri Lanka which became a major political issue since 1956 had its impact in Tamil Nadu politics as well. Tamil Nadu's concerns came to a head when a politically orchestrated anti-Tamil pogrom took place in July 1983 in Colombo. Marauding Sinhala gangs killed Tamils and pillaged Tamil business and property. This set off a massive exodus of Tamil population from Sri Lanka with Tamil Nadu as the major destination.
Over 100,000 refugees sought shelter and succour in Tamil Nadu. And along with them came Tamil insurgency groups including the LTTE seeking refuge. The suffering of Tamils touched off wide sympathy the world over. It was natural that the fate of Sri Lanka Tamils became a major political issue and humanitarian concern not only in Tamil Nadu but also in India. It was in this period the Tamil quest for autonomy into a full blown insurgent struggle for separatism and received India's support. Thus the narratives of India-Sri Lanka relations as well as the rise and fall of the most powerful Tamil insurgent group – the LTTE – became closely inter-woven with Indian support to Sri Lanka Tamil aspirations to preserve their identity and culture in their traditional "Homeland" in North and East Sri Lanka.
Gritty issues in the relationship
India and Sri Lanka relations are facing a number of gritty issues generated in the wake of Eelam war. The durability of their good relations would depend upon how they manage these issues in future:
China's increasing profile in Sri Lanka:
China became a major source of weapons and political support in UN for Sri Lanka during the Eelam War. After the war, the Chinese have emerged as a major financial source for construction of a number of infrastructure projects in Sri Lanka. Some of them like the construction of modern port facilities at Hambantota are part of China's non-military power projection in India's neighbourhood. China's recent interest in understanding the Tamil ethnic issue indicates its increasing interest in Sri Lanka's political affairs as well. Thus China could emerge as a major contender to check Indian influence in Sri Lanka and the Indian Ocean region.
Increasing militarism and centralization of power:
The 200,000-strong Sri Lankan army has emerged as a powerful force with high morale after the success against LTTE. The continued deployment its major strength in Northern Province even after three years of war and their employment in non-military duties even outside the war zone have become matters of concern for civil society. It does not augur well for democracy as Colombo is showing increasing tendency to centralize power in the hands of the Rajapaksa clan, use the parliament to reduce executive president's accountability, weaken civil society institutions and curb of opposition and media. Assertion of Sinhala triumphalism has encouraged xenophobia and hardened Sri Lanka's attitudes towards devolution of powers to minorities. It could strengthen anti-Indian lobbies in Sri Lanka leading to a backlash in favour of Eelam separatism and anti-Sri Lankan lobbies in Tamil Nadu.
Negative impact on policy making:
These issues have provided an incentive for the revival of Tamil separatism among Tamil Diaspora. It has helped pro-LTTE fringe elements in Tamil Nadu to come to the political limelight which could harden the larger Dravidian parties' stance on Sri Lanka and negatively impact policy making in both India and Sri Lanka affecting their friendly relations. Increased support to Tamil separatist elements has the potential to turn into a security risk to both India and Sri Lanka. If left unchecked, it could pose a major challenge for national leaderships in both countries in their relationship strategy.
The progressive growth of relation between India and Sri Lanka provides valuable takeaways in relationship building which are relevant to improving relations among SAARC members:
Transparency in transactions: Lack of transparency in transactions in international diplomacy is taken for granted as a matter of routine. However, the public involvement in policy making has increased tremendously through social media and blogging networks. So probably time has come for nations to achieve a level of transparency in their international transactions without jeopardizing national interests. Lack of transparency of transactions was a major reason for the poor public credibility India-Sri Lanka Agreement 1987 enjoyed during implementation. Neither public nor political parties were taken into confidence either during the Rajiv-Jayawardane talks or when the Agreement was signed. In fact it was rushed through in unseemly haste giving rise to its apprehensions. Publication of white papers on policy matters periodically could help improve the situation.
Keeping open communication channels: In this era of real time news and powerful social media, it is essential that communication channels between countries are kept open at various levels to avoid misunderstanding.
This was done effectively during the Eelam War by both India and Sri Lanka. In addition to this, there were periodic meetings between the policy makers in both countries as well as within the country. Equally important is to create effective public communication channels. It played an important role in LTTE's successful image building exercise during its conflict with IPKF and subsequently in earlier episodes of Eelam War. Understanding this, Sri Lanka used improved public communication through electronic and print media to successfully neutralize LTTE propaganda machinery during Eelam War IV. India's credibility during the Eelam War IV and after was affected due to poor public communication particularly in Tamil Nadu.
(For updates you can share with your friends, follow TNN on Facebook and Twitter )