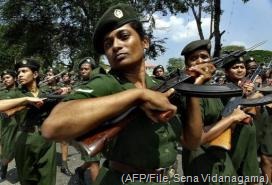 Sri Lanka's military has recruited 100 women soldiers in the biggest single intake of ethnic Tamils from the island's former war zone, according to a spokesman.
The women, who come from the northern district of Kilinochchi where Tamil Tiger rebels had their political headquarters before they were defeated in 2009, were enlisted on Saturday.
"These women soldiers will be deployed in the same area after completing a four-month training," Brigadier Ruwan Wanigasooriya told AFP. "There are no former Tiger combatants among the new recruits."
He said the Sri Lankan army already had nearly 4,000 women soldiers.
"We have not discriminated on ethnic lines in recruitment, but we focused the enlisting in Kilinochchi where we have set up a training camp and the local population there is Tamil," Wanigasooriya said.
The new recruits will initially be asked to "assist civil-military coordination work" in the region, according to the Sri Lanka army website.
The number of minority Tamils joining the military declined during the height of fighting between troops and Tamil rebels, who campaigned for an independent homeland in the island's northeast.
(For updates you can share with your friends, follow TNN on Facebook and Twitter )