Dismissing the "recommendations" of the Petrie report as "UN double talk" similar to the language used by the UN to excuse UN's complicity in the Srebrenica massacre, Professor Boyle, an expert in International Law, said that the Petrie report, however, provides legal evidence to establish UN's culpability on the element of "complicity" to war crimes and genocide, as defined in the Article 3(e) of 1948 Genocide Convention. Further, Boyle said, contrary to the claims in the Petrie report, the UN Secretary General (UNSG) has independent powers, and need not adhere to the dictates of the Security Council.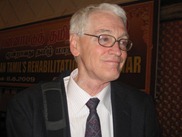 Noting the reasoning in Para-18, that "without clear Security Council support, the UN felt it could not play a lead role and made no attempt to implement a comprehensive strategy," Boyle said, "the UNSG has independent powers under Chapter 15 and Article 99 of the Charter. The SG is not an agent of the Security Council. Rather the Secretariat is one of 6 Independent Organs of the UNO. This is just a cop-out by Ban Ki Moon (BKM). He had the authority to act and he should have acted and he refused to act. Either the Americans pressured him or else he did not care," Boyle said. "Once again in my book The Tamil Genocide by Sri Lanka I made the case for complicity in genocide by BKM. I stand by those conclusions," Boyle added.
PDF: Report of the Secretary-General's Internal Review Panel on United Nations action in Sri Lanka
In Para-33, the Petri report criticizes the UN on lack of meeting on Sri Lanka: "Throughout the final stages of the conflict, Member States did not hold a single formal meeting on Sri Lanka, whether at the Security Council, the Human Rights Council or the General Assembly."
PDF: Convention on the Prevention and Punishment of the Crime of Genocide
Boyle comments: "UNSG had the power to convene an Emergency Meeting of the Security Council, but refused. BKM had the legal authority and the responsibiliity to act and he failed and refused to do that. That is the essence of complicity in crimes, including genocide.
"Realistically one cannot expect UN humanitarian and unarmed officials on the ground to risk their lives if they do not want to, which is different from the UN peacekeeping force at Srebrenica. But BKM should have been doing all he could have under his independent powers under Article 19 and Chapter 15 of the Charter to stop the Wanni Genocide. He did not. He should have. That makes him an accomplice," Boyle said.
Comments on other salient paragraphs in the Petrie report that caught Professor Boyle's attention, follow:
Para-22: Notice UN DPA admitting that they "would be complicit if they did not act on it." In other words, mens rea. Criminal intent

Para-25: UN briefed on Tiger atrocities but not GOSL atrocities. a whitewash, more complicity.

Para-26: More whitewashing of GOSL crimes. UN aiding and abetting GOSL crimes, including genocide.

Para-28/29: More whitewashing and covering up of GOSL crimes by UN.

Para-50: Boyle dismisses as "Nonsense." These UN officials knew exactly what they were not doing and why they were not doing it. These are highly competent and intelligent people. Obviously, the UNSG did not give the order and the resources to get the job done. People were deliberately stalling and delaying. This was malfeasance, not negligence, by the UN and SG.

Para-52/53: UN deliberately understated GOSL atrocities so as to avoid international cries of war crimes, crimes against humanity and genocide that would have produced international pressure on the UN Security Council to act. More BKM/UN complicity with GOSL crimes if not worse.

Para-54: Reflects mercenary motive of the UN.

Para-55: Why did UN refuse to assist and protect surrendered LTTE. They were out of combat under Geneva Convention Article 3 and were entitled to all the protections in there at a minimum.

Para-61: Yes, no one kept a written record because they did not want to incriminate themselves in writing.

Para-63: A sick joke and a demented fraud that the Special Adviser on Genocide would not speak out. That was his job. He deliberately failed and refused to perform it and thus became an accomplice himself.

Para-69: UNSG BKM should have gone to the UN General Assembly. Boyle cites the example of Second UN Secretary General Hammarskjold, who Boyle said would have gone to the General Assembly as he did during his leadership.

Para-71: BKM should have convened an emergency meeting of the Security Council under article 99.

Para-70: Notice UN already had the Channel 4 information and refused to do anything with it.

Para-73: Another instance of whitewash of malfeasance and complicity by BKM.

Para-76: This was a case of UN malfeasance and complicity, not negligence and nonfeasance or misfeasance.
Referring to Para-77, where the report states, "the Security Council was deeply ambivalent about even placing on its agenda a situation that was not already the subject of a UN peacekeeping or political mandate; while at the same time no other UN Member State mechanism had the prerogative to provide the political response needed, leaving Sri Lanka in a vacuum of inaction," Boyle points out "basically UN is admitting that they did what the Permanent 5 on the Security Council wanted them to do, which was nothing."
(For updates you can share with your friends, follow TNN on Facebook and Twitter )