"History of the world has been full of clashes between the occupiers and the occupied. As a result of struggles, resistances and sacrifices more of the occupied people have been liberated and the fascist and chauvinist occupiers are being destroyed successively," writes Mr. Rehman Haci Ehmedi, the Secretary General of the Kurdistan Free Life Party (PJAK), in a solidarity message sent to the Eezham Tamil nation on the occasion of Heroes Day. In a note sent to TamilNet via Rojhelat.info on Thursday, Mr. Ehmedi, who is the highest authority in the PJAK, drawing parallels between the struggle of the Kurds and the Tamils, urged the Eezham Tamil nation to continue the struggle, "In the hope of revitalization of the heroic nation of Tamil Eelam, in the hope of triumphant and freedom for the resolute and revolutionary nation of Tamil Eelam; never rest unless triumphing!"
On 27 November, the PJAK had also commemorated the 34th anniversary of the establishment of the Kurdistan Workers Party (PKK), and greeting "the whole Kurdish people, the families of the martyrs of the PKK in East Kurdistan as well as the Leader Apo (Abdullah Ocalan)."
The PKK, which was formed on 27 November 1978, has been waging an armed struggle for autonomy in East Kurdistan against an oppressive Turkish government which denies the Kurdish nation basic political, economic and cultural rights.
The PJAK, based in Northern Iraq, is constituent of the Koma Civaken Kurdistan (KCK), of which the PKK is also a member. A Kurdish nationalist organization which also aims at the creation of an economically egalitarian and gender-just society, the PJAK's long term goals is to establish an autonomous secular Kurdish region within the Iranian state.
The full text of Mr. Ehmedi's solidarity message to the Eezham Tamil nation follows:
Happy Tamil Eelam Heroes' Day to Tamil Nation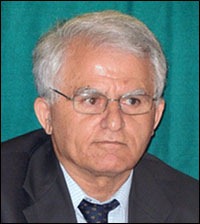 Revolutionary greetings for the heroic and steadfast nation of Tamil
Dedicating campaigners and activists of Tamil's freedom path; our pains and sufferings, our hopes and aspirations are the same. Not we do only share them together, but with all the oppressed peoples in the world who are struggling to attain freedom. In the same manner; all the inhumane fascists and chauvinists in the world share their way of thinking, ideology and paradigm.
History of the world has been full of clashes between the occupiers and the occupied. As a result of struggles, resistances and sacrifices more of the occupied people have been liberated and the fascist and chauvinist occupiers are being destroyed successively.
In the last century more than 122 nations have been liberated and achieved their rights. Many more are leading liberation struggles and the bodies of their daughters and sons are becoming the fuelling logs of revolution blazes while their villages and cities are being destroyed; the Tamil and Kurdish nations are just samples of those peoples.
History and the philosophy of those liberated nations give us a lesson as the campaigners of liberation. The lesson is that campaign for freedom means; struggle, devastation, resoluteness and resurrection; struggle again, devastation, resoluteness and resurrection; once more struggle, devastation, resoluteness and resurrection; and ultimately triumphant and freedom will prevail.
Each damage and devastation would push us a step forward once we stand up, this is the dialectic of struggle for freedom and liberation. We have also experienced damages and devastations, but we never gave in and stood up again. Any nation who is scared of damage and devastation will never triumph. We should learn how to stand up from the way we get damaged and are devastated, any nation who learns how to stand up, will triumph.
In the hope of revitalization of the heroic nation of Tamil Eelam, in the hope of triumphant and freedom for the resolute and revolutionary nation of Tamil Eelam; never rest unless triumphing!
The Secretary General of Kurdistan Free Life Party (PJAK)
Rehman Haci Ehmedi 29-11-2012
(For updates you can share with your friends, follow TNN on Facebook and Twitter )