The occupying military of genocidal Sri Lanka individually approached the Deans and former Deans of all the faculties of the University of Jaffna to threaten them not to take up the issue of the students arrested following the Heroes Day observations, news sources in Jaffna said. Parallely, the military also went in search of a student leader at Thiruvaiyaa'ru in Ki'linochchi last night. The University remains vacated as student leaders are forced into hiding. A protest demonstration by the Medical Faculty of the university scheduled for Monday was cancelled, as the Administration of the university advised against it, citing 'secret negotiations' taking place between the university and the occupying military at the Palaali base. However, the University of Jaffna Teachers Association is firm that all the arrested students have to be released without charges, the news sources further said.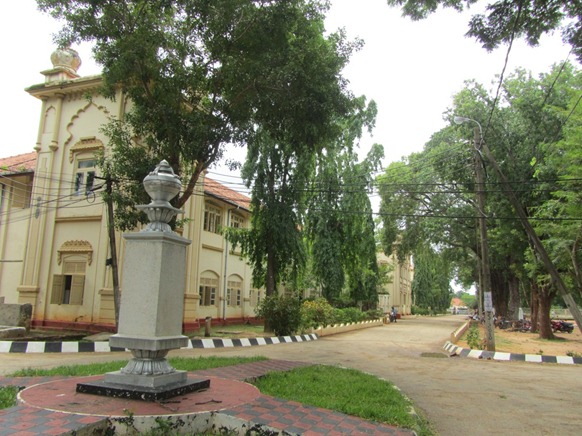 In any case, whether by prosecuting the students or by releasing them, the occupying Sri Lanka wishes to achieve the purpose of silencing all future democratic struggles coming from the university, commented a new generation political activist in Jaffna.
Unless the genocidal state is countered in an appropriate way by the world, the state would endlessly continue with this kind of activities, the activist said.
The university students waging a democratic struggle had clearly expressed their faith in non-violent means and their faith in the so-called International Community. But we have seen how the predicament of the students was either just 'secondary' or an opportunity for collaborative oppression for the International Community of Establishments (ICE). We also watch how the international media's Colombo-centric reporting reminds us of the war times. Unless the struggle is effectively taken up by a global civil society against the erring ICE, genocidal states are going to mushroom in the world, the new generation political activist said.
The Heroes Day observation is in fact a slap on the face to the policies followed by the erring ICE. The ICE would in fact be happy to see such struggles silenced. They had already implied what respect they would give for peaceful democratic voices when hundreds of thousand Eezham Tamils came to streets during the genocidal war, the activist cited.
Eezham Tamils waged a democratic struggle for 30 years. They waged an armed struggle for another 30 years. Now they again wage a democratic struggle. But sabotage, disrespect and hijack of democratic and peaceful struggles come from the very establishments that advocate for democratic struggle. What the Eezham Tamils could do if we are not prepared to listen, arrogantly ask the agenda pundits of the ICE. It is this challenge that has to be primarily addressed by creatively identifying and applying effective democratic means with the help of the diaspora, Tamil Nadu and above all, a mobilised global civil society, the new generation political activist in Jaffna further said.
(For updates you can share with your friends, follow TNN on Facebook and Twitter )