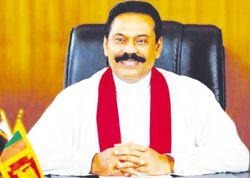 Despite protests by Indian groups against the planned visit of Sri Lankan President Mahinda Rajapaksa to Malaysia, its High Commission in Kuala Lumpur confirmed the cancellation was not due to political pressure.
Leaders from the Indian community, who are largely of Tamil ethnicity, had expressed disapproval of Rajapaksa's role in the Sri Lankan civil war. His brother, Lt-Col Nandasena Gotabaya Rajapaksa, is also the country's defence secretary.
Rajapaksa was due to attend the World Islamic Economic Forum (WIEF) in Johor Baru from Tuesday to today.
Sri Lankan acting High Commissioner Maj-Gen S.W. Lalith Daulagala told The Malay Mail, the president had cancelled the visit as he went to visit ailing Prime Minister D.M. Jayaratne, who was receiving treatment at the Johns Hopkins Hospital in Baltimore, Maryland, United States.
"The president had initially declined the offer in January and later agreed when persuaded by a Malaysian VIP who met him during a business meeting in Sri Lanka.
"The president was on his visit to Kazakhstan when we were informed that his plans to visit Malaysia was cancelled due to unavoidable circumstances. He had decided to visit his prime minister in the US. He informed us of the cancellation on Nov 23, which was days before the uproar here," said Lalith Daulagala.
Rajapaksa has been blamed for allegedly orchestrating the massacre of Tamil civilians and Liberation Tigers of Tamil Eelam (LTTE) fighters, also known as the Tamil Tigers.
The Sri Lankan government defeated the Tamil Tigers in 2009 after a 26-year war against the separatist movement which wanted to create an independent Tamil state in the north and east of the country.
Last month's Report of the Secretary-General's Internal Review Panel on United Nations Action in Sri Lanka reported the estimated number of civilian deaths could have been as many as 40,000 between 2006 and 2009. (Source: The malay Mai
(For updates you can share with your friends, follow TNN on Facebook and Twitter )