Her glittering music career may have grabbed the headlines, but her new book, a vibrant collection of collages, photos and prints, reveals an artist of wide-ranging talents. Gillian Orr meets her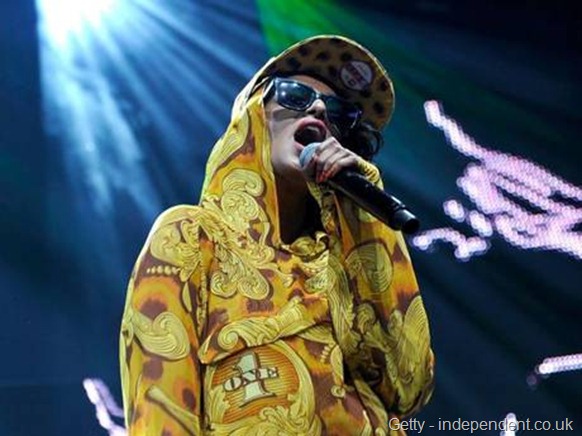 Coming off a long and gruelling tour at the beginning of 2011, the singer and artist M.I.A. decided to take stock of all the work she had dedicated the best part of her life to. "I moved back to London and I just wanted to sort of go through all of my stuff and clean the slate," she says. "But at the same time being able to output it in a way that you could actually look at. For a long time it had been a very fast on-going whirlwind, and then when I landed I felt like it was really important to document it, even just for myself."
The result is M.I.A., a new art book that shares her visual output and tells her story through collages, photos and prints that date back to her early years in art school at Central Saint Martins and takes you through early commissions, various exhibitions and her three albums. The artwork is comprised of a number of materials and media; everything from video stills turned into stencils to spray-painted canvases scanned into digital collages. The book is a bright explosion of colour, often both garish and shocking. There are also lyrics and an interview in which she discusses the personal events and themes that informed her art at various times.
Although born in London, M.I.A. was brought up in Sri Lanka and India, where her father set up the Eelam Revolutionary Organisation of Students, that campaigned for a separate Tamil state. The treatment of the Tamils by the Sri Lankan government is one of the biggest preoccupations in her work and she cites the portraits of Tamil Tigers who had been killed or reported missing in action as among the pieces she is most proud of. "None of those people are alive and that was their last moment to say what they wanted to say," she observes.
For someone who embraces the latest technology and is fascinated by the internet, releasing a book might seem a rather traditional way to share her work. However, she says, a book wasn't what she originally intended to do. "We started off making it digital because the type of stuff that I'd done up to that point existed in so many different forms. So initially it started off as a 3D iBook. It was a really big, elaborate idea and there was so much to choose from that nobody knew what to do with it all. I rung around loads of people – digital companies, internet web developers – to develop this way of putting a book together, but it turned out to not really exist at the time."
In the end, the 37-year-old decided it was best to split up her work. All of the filmed footage is currently being turned into a documentary about M.I.A., while the 2D work has been used for the book. "I'm still going to do a 3D digital book with gifs and things like that at a later date. But I think it's important to not lose respect for old formats like books and film and documentaries; they're never going to end," she adds.
In the foreword of the book, her friend and collaborator Steve Loveridge reveals that the young M.I.A. always had "unwavering confidence in her own taste" but seemed "bored and frustrated" in lectures for their film degree course at Central Saint Martins, which she started in 1998. "I was quite young and I was a hyperactive person with loads of ideas," she recalls. "I wanted to change the world and was really inspired all the time, and it was really difficult for me to come into school and sit down and listen to theory that didn't really apply to my real life at the time."
After making some waves in the art scene, she decided that it was through music that she could really make a difference. "Art was not where the debates were happening or where the new ideas were forming. That was going on in music," notes Loveridge. Still, she had to convince those around her that she could do both art forms, something she has had to deal with throughout her career. "It's a bit of a battle because you talk to music industry people and then with the art world it's a different bunch of people, and then when you do fashion it's another bunch of people," she muses. "And they all appreciate each other because it's a collective thing called culture, but it's been difficult. Or at least at the time it was; now it's more acceptable because technology is changing, but in 2004 when I was getting a record deal at XL, they would say, 'You've gotta choose if you want this or this' and I always had to sort of sneak stuff in, and half the time not even tell them that I was doing it."
(For updates you can share with your friends, follow TNN on Facebook and Twitter )