Sri Lanka's Acting Permanent Representative to the United Nations, and ex-Major General in Sri Lankan Army (SLA), Shavendra Silva, under whose command the SLA's 58th division allegedly committed war crimes during the last months of Sri Lanka's civil war, is "visiting and even inspecting the UN Mission in Lebanon UNIFIL from November 28 through December 4, 2012," Inner City Press (ICP) reported. While the recent Petrie report accused the UN of "massive and system wide failure to prevent the slaughter of an estimated 40,000 ethnic Tamils in five short months," the UN continues to allow an alleged criminal to penetrate and to engage in UN's official affairs, ICP said.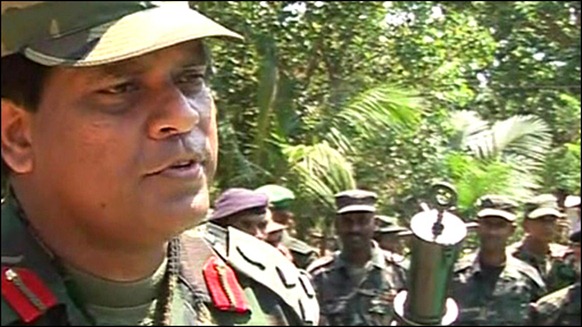 "Previously, when Sri Lanka negotiated to get the Asia Group's seat on Secretary General Ban Ki-moon's Senior Advisory Group on Peacekeeping Operations and then gave the seat to Silva, there was investigative reporting and an outcry, even among senior Asia Group Permanent Representatives," ICP said.
"While Ban Ki-moon declined to take a position, telling Inner City Press it was a decision on member states, the chair of the SAG ruled that Silva could not participate," ICP said in its report.
Through the "Military and Police Advisors Community," MPAC, Shavendra Silva has gotten even more directly involved in UN Peacekeeping, ICP said, questioning if there are any UN standards to screen alleged criminals from penetrating the UN system.
In February 2012, while Navi Pillay, U.N.'s chief of human rights, advised U.N. Secretary General Ban Ki-moon to seek the removal of Shavendra Silva from a top peacekeeping advisory committee for alleged complicity in war-crimes, other rights groups blasted Ban for the silence on the controversial appointment. Philippe Bolopion, the U.N. representative for Human Rights Watch, said "[t]he responsibility for this puzzling appointment lays squarely with the Asia Group, but ultimately Ban Ki-moon established the panel and has to safeguard the reputation and credibility of the United Nations."
Professor Boyle, an expert in international law, earlier commenting on Silva's UN appointment, said, "U.N. Secretary-General has a Charter obligation to determine that the terms of article 101(3) have been satisfied before he appoints someone to the Staff irrespective of any alleged recommendation by the General Assembly," and therefore, "Ban to appoint a presumptive war criminal to his Staff would be ultra vires his powers under the terms of article 101(3) and thus a violation of the Charter itself."
Shavendra Silva's 58th division was one of the Sri Lanka Army (SLA) divisions that had been the longest embedded division in prosecuting the final war. Starting in September 2007 in Silavaturai in the western coast, Silva's division was instrumental in displacing civilians from the western shores to the eastern killing fields in Mullaitivu in Jan 2009, according timeline published in Sri Lanka Government controlled Daily News.
(For updates you can share with your friends, follow TNN on Facebook and Twitter )